Cruise ship leaves more than 80 Chinese tourists on Auckland wharf after visa mix-up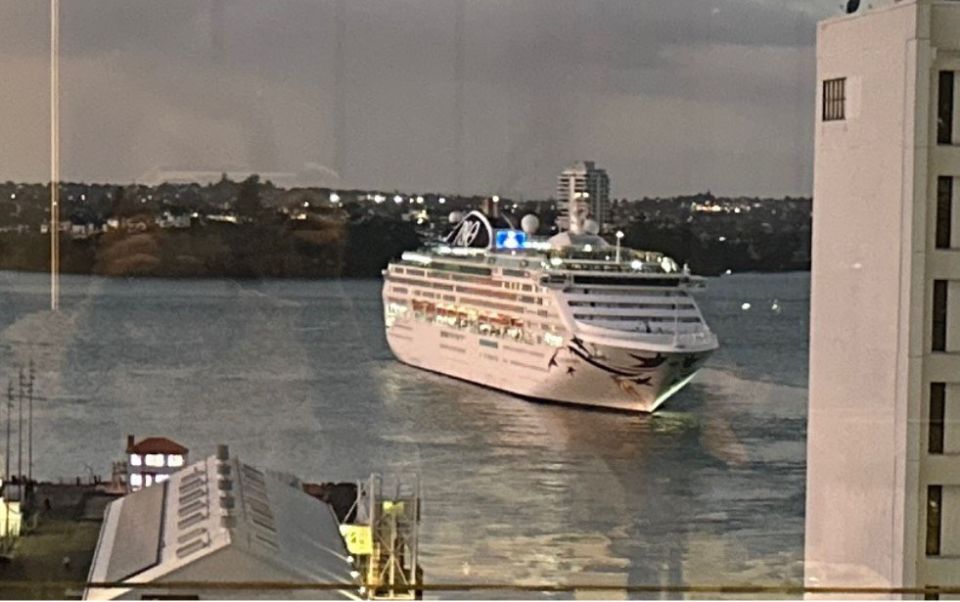 The Pacific Explorer, photographed through a restaurant window, pulls away on July 17, leaving more than 80 passengers behind. Photo: supplied
More than 80 passengers without Australian visas were stopped from boarding their Norfolk Island-bound P&O cruise ship at Auckland, despite being told by the company a visa was not required.
The Chinese tourists, many of whom were elderly, told TWN they were angry they've had no explanation from the company six weeks later.
They bought their cruise tickets in August last year, right after New Zealand re-opened its national borders. "We have been preparing and looking forward to this trip for a year," said Nancy Li, an elderly Chinese passenger.
The 13-day cruise on P&O's flagship, the Pacific Explorer, was meant to take passengers on a journey to multiple Pacific nations, including Tonga and Fiji.
Passengers were to board on July 17 at Auckland's Queens Wharf and would return to Auckland on July 30.
The refusal to allow the passengers to board was due to one stop on the journey, Norfolk Island, which is one of Australia's external territories.
The Norfolk Island travel information page on the Australian Government's website explicitly says non-Australian cruise passengers must have Australian visas when passing through Norfolk Island, including passengers who have permanent residency (PR) in New Zealand.
However, the tourists provided TWN with online chat and email records with the P&O customer service that clearly state New Zealand permanent residents arriving at Norfolk Island do not need an Australian visa.
A month and a half later, none of our interviewees say they have received any official explanation or apology from P&O.
P&O has promised to refund the cruise tickets and provide equivalent vouchers as compensation.
However, some passengers said they still hadn't received any refund, and didn't know to whom they could lodge complaints. Some said they no longer wanted to travel with P&O and had no use for vouchers.
Several expressed their anger to TWN over what they perceived as P&O's arrogant and perfunctory attitude.
Selina Jiang said she still felt sorry for her cousin's family.
As a New Zealand permanent resident living in Auckland, Jiang had bought cruise tickets for her family of eight and her cousin's family.
Her cousin's family flew from Guangzhou to Auckland for the trip.
"I can imagine how busy she was. She took time off until July 31, just for this trip and planned to fly back to work in China overnight after the journey on August 1.
"My relatives were looking forward to this trip, so of course, I feel sorry," Jiang said.
Jenny Huo, an elderly passenger's daughter, said: "I think this is a significant negligence on the part of the cruise company.
"Many travel agencies and passengers repeatedly asked them, and they didn't confirm. The response was still, 'Visas not needed'."
Baggage was already in the cabins
The Pacific Explorer was scheduled to depart at 5pm that day. More than 80 Chinese tourists had been arriving at the boarding dock since 1pm, with more than 50 being helped by ANZ Sky Tours Ltd (ASTL), a travel agency registered in New Zealand.
According to one of ASTL's clients, Zhou Steven, the tourists' luggage had been successfully checked in and transferred to their cabins when cruise staff suddenly refused to let them clear customs, repeatedly asking to check their Australian visas.
"Most of the tourists were elderly Chinese people who didn't speak English well, waiting anxiously in the hall. Only a few young people and [the] P&O staff were arguing," Jiang said.
Zhang Holley said border officials present were particularly rigid and wouldn't let them through without Australian visas.
"We showed them our chat records with P&O staff who clearly said we didn't need visas. But they insisted that it was not acceptable.
"They claimed to be part-time workers and didn't know the specifics, so they couldn't take responsibility," Zhang said.
During the argument, Jenny's mother, Gao, became so upset she fainted. Jenny told TWN her parents had carried heavy luggage and taken a train for almost an hour to reach downtown.
According to Jiang's memory, P&O did not provide water, food, or any mental comfort, nor did it promise any follow-up compensation.
The tourists, many of whom were elderly, waited in the hall for several hours.
Very distressing - 'I felt like crying'
Gao and Jiang said around 4pm a man who said he was a human-resources manager from P&O appeared.
They said he admitted P&O had made a mistake and had not consulted properly with the Australian Immigration Office.
"He said the Australian Immigration Office did not agree to let [the] passengers board, and P&O couldn't argue with the immigration office.
"He said he spoke directly with the Australian Immigration Office on the phone, therefore without any written evidence," one passenger said.
Li said P&O's attitude at the time was arrogant, without "any comforting or understanding words".
"I was very angry at the time, but my English wasn't good so I couldn't argue with them," Li said.
The tourists' luggage was eventually taken off the ship. "This scene was very distressing for my parents, and they were both mentally and physically exhausted," Jenny said.
Due to the incident, the Pacific Explorer didn't leave until 5.30pm. An hour later the passengers left behind finally dispersed.
Jiang said P&O did not take responsibility for accommodating or getting the elderly passengers home. Instead, company representatives simply departed.
Li's husband had taken time off work to take her to the wharf, but she had to return on her own.
The 66-year-old woman's English wasn't good. She was wearing high heels, while carrying a heavy suitcase and a backpack.
She spent more than three hours waiting for and riding buses, resulting in swollen and painful calves.
"When I got home, it was already past eight. I was tired and angry, and after a day of struggle, I felt like crying," Li said.
The next day, Jiang began calling P&O's overseas customer service hotline to request a refund of the cruise fare.
Still waiting for full refund
According to documents TWN has seen, Jiang's family and her cousin's family, 12 people in total, spent $14,900 on the cruise tickets for the trip.
By this week, Jiang had only received a refund of $7434.98 without any of the vouchers promised.
Jiang's cousin's family had also spent about $8000 on return air tickets from Guangzhou.
"I don't even expect P&O to make up for my cousin's airfare. I just hope they'll refund our cruise ticket money soon. It's already been a month and a half," Jiang said.
Li said that in a social media chat group containing more 50 of the passengers, some people disagreed with the voucher compensation, as they were unwilling to purchase P&O's travel products again.
However, Li said the customers' requests were ignored and the group chat shut down.
Jenny's parents have received their vouchers and have rebooked a cruise trip on the Pacific Explorer for this November.
"Because this voucher can only be used to purchase P&O's travel products," Jenny said.
Some passengers have received had cruise ticket refunded, but the rest are still pending.
Passengers told TWN that ASTL had told them it was "still negotiating with P&O".
TWN has made multiple approaches to P&O regarding the incident but has yet to receive a direct response to questions.
Mavis' interviews with the affected passengers were conducted in Mandarin and their comments are translated here.