A young Auckland entrepreneur has a mission to launch the country's biggest online shopping platform this month.
Te Ariki Te Puni has been developing Hoko NZ for the past nine months, an e-commerce marketplace aiming to provide Kiwis a one-stop shop for New Zealand businesses.
"I'm incredibly passionate about growing a more self-sustaining economy in Aotearoa," he says.
"Our mission is to be the biggest online shopping platform in Aotearoa and to promote and grow Kiwi businesses".
Hoko NZ is using Instagram to promote New Zealand businesses and grow their community in preparation for the launch of their marketplace.
Prim Improper founder Caiti recently had her New Zealand business featured on the Hoko NZ Instagram page.
She says that there has since been huge engagement on her business page and sees a lot of value in the marketplace.
"Having the opportunity to gain exposure by being showcased with other amazing Kiwi businesses is priceless," she says.
When Te Puni reached out to businesses last year to ask what they were struggling with the most, they all said exposure.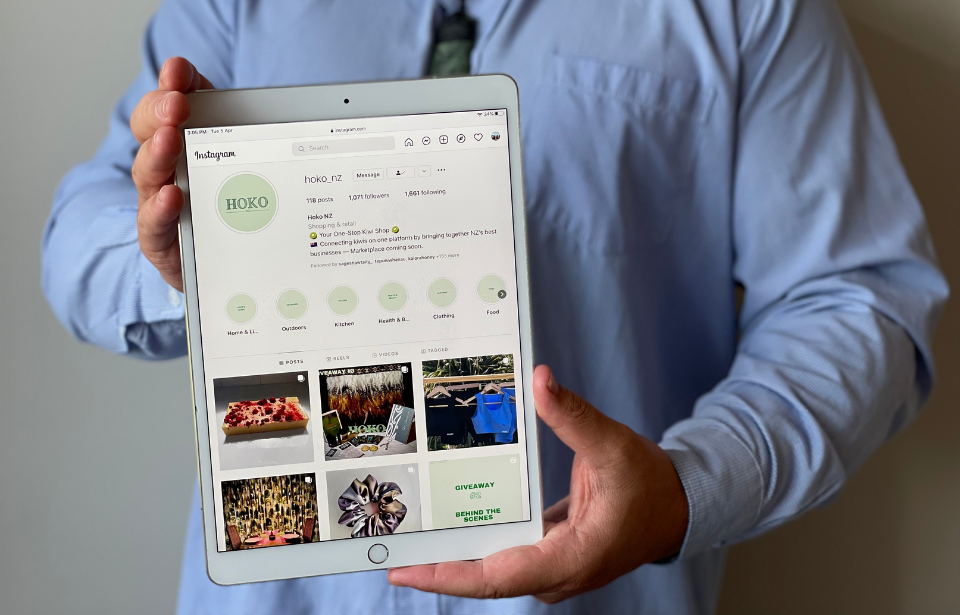 HOKO NZ is using Instagram to grow their community in preparation for the launch of their marketplace. PHOTO: WAIMIRIRANGI LEE-REIRI
A Kiwi business consumer, Willow Grace-Morton, says that she loves to shop local and looks forward to the launch of Hoko NZ.
"When I buy from an Aotearoa made shop, I feel proud to be Kiwi [...] so it's cool to know that I can go to one place and find a variety of Kiwi businesses. You can probably shop for your whole family just by going to Hoko NZ," she says.
More than 500 businesses and consumers joined the Hoko NZ community on Instagram in their first week and it continues to grow.