Two Auckland University of Technology students who took top design and creative technology prizes at an awards ceremony last night are off to Fiji for a research project.
Julie Cleaver and Kendall Hutt were rewarded for their writing efforts at the School of Communication Studies event last night.
Ms Cleaver, editor of AUT's magazine Debate and a freelance writer for the New Zealand Herald won the school award for excellence in communication theory.
Ms Hutt, who works for AUT's Pacific Media Centre was named top student in Asia-Pacific journalism.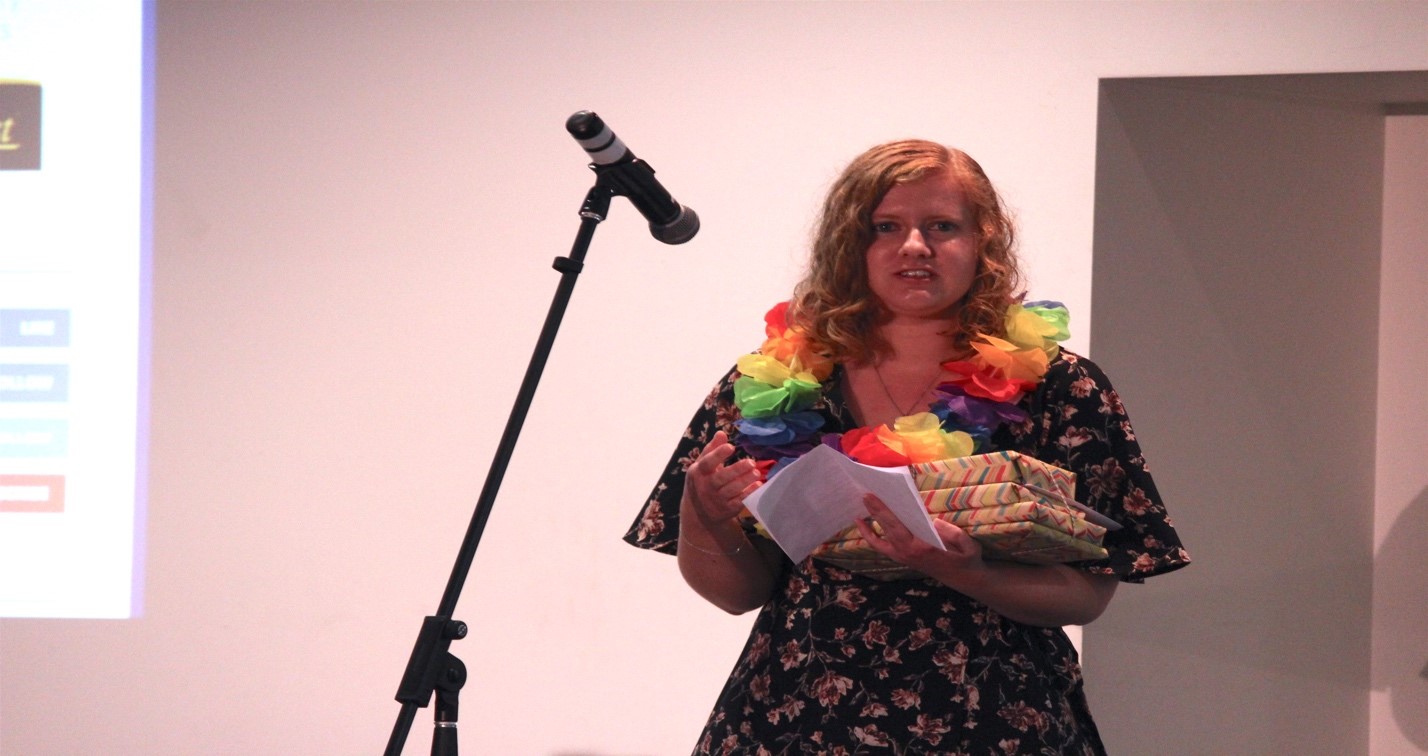 Kendall Hutt gives credit to AUT for opening up her journalism career. Photo: Queenie Jose
Later this year they will fly to Fiji to further their passion for cultural and environmental issues.
Ms Cleaver, who is of Canadian and Māori descent, said her passion and interest for media topics was more rewarding than getting a good grade.
The award would give her the opportunity to raise awareness of other cultures in New Zealand.
Ms Hutt, who travelled to Finland last year, said the journey had broadened her journalism horizons.
Hundreds of people packed AUT's function hall for the ceremony, hosted by advertising supremo Mike Hutcheson, who told guests he welcomed the recognition of creativity and diversity.
Mr Hutcheson's comedic anecdotes left all the guests inspired; "be the voice of creativity", he said.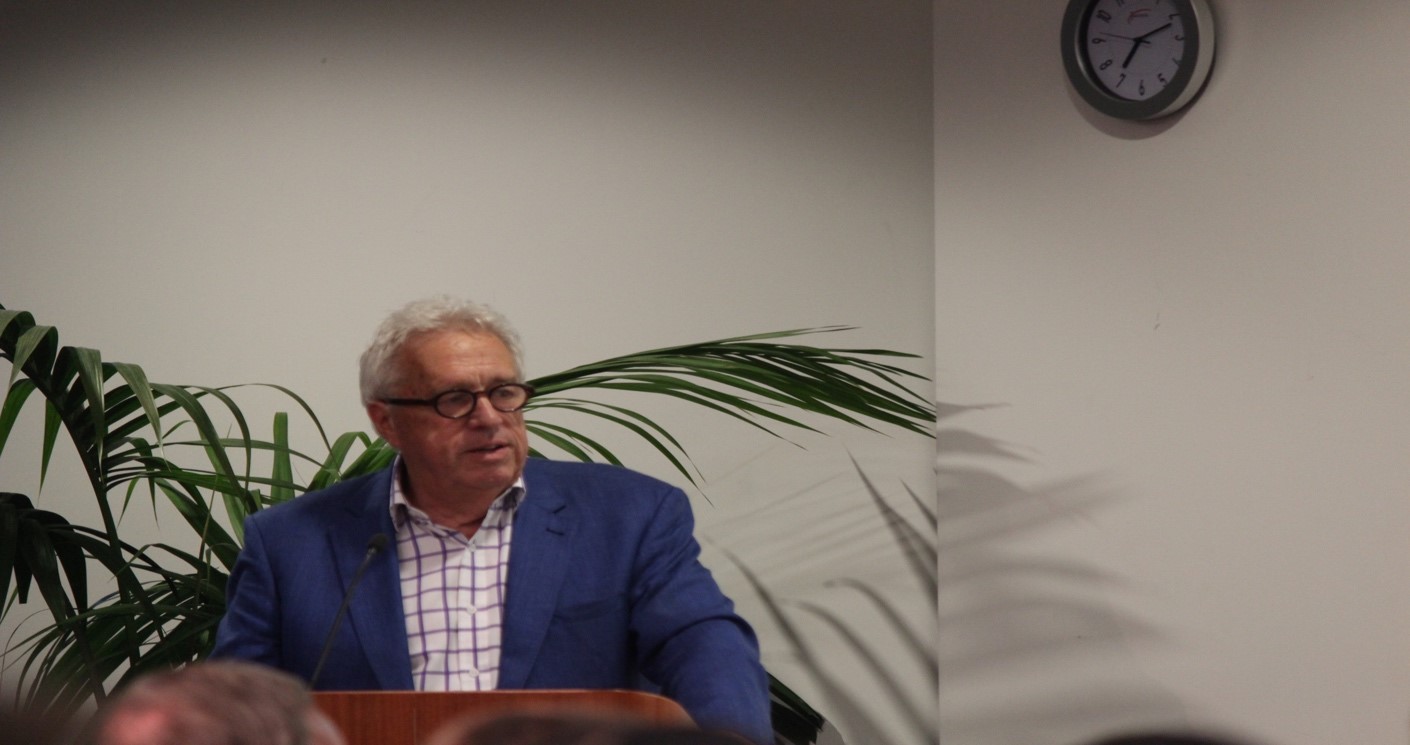 Advertising guru Mike Hutcheson hosted the awards ceremony. Photo: Queenie Jose
Other awardees included former AUT postgraduate journalism student Ami Dhabuwala, who won the diversity reporting award.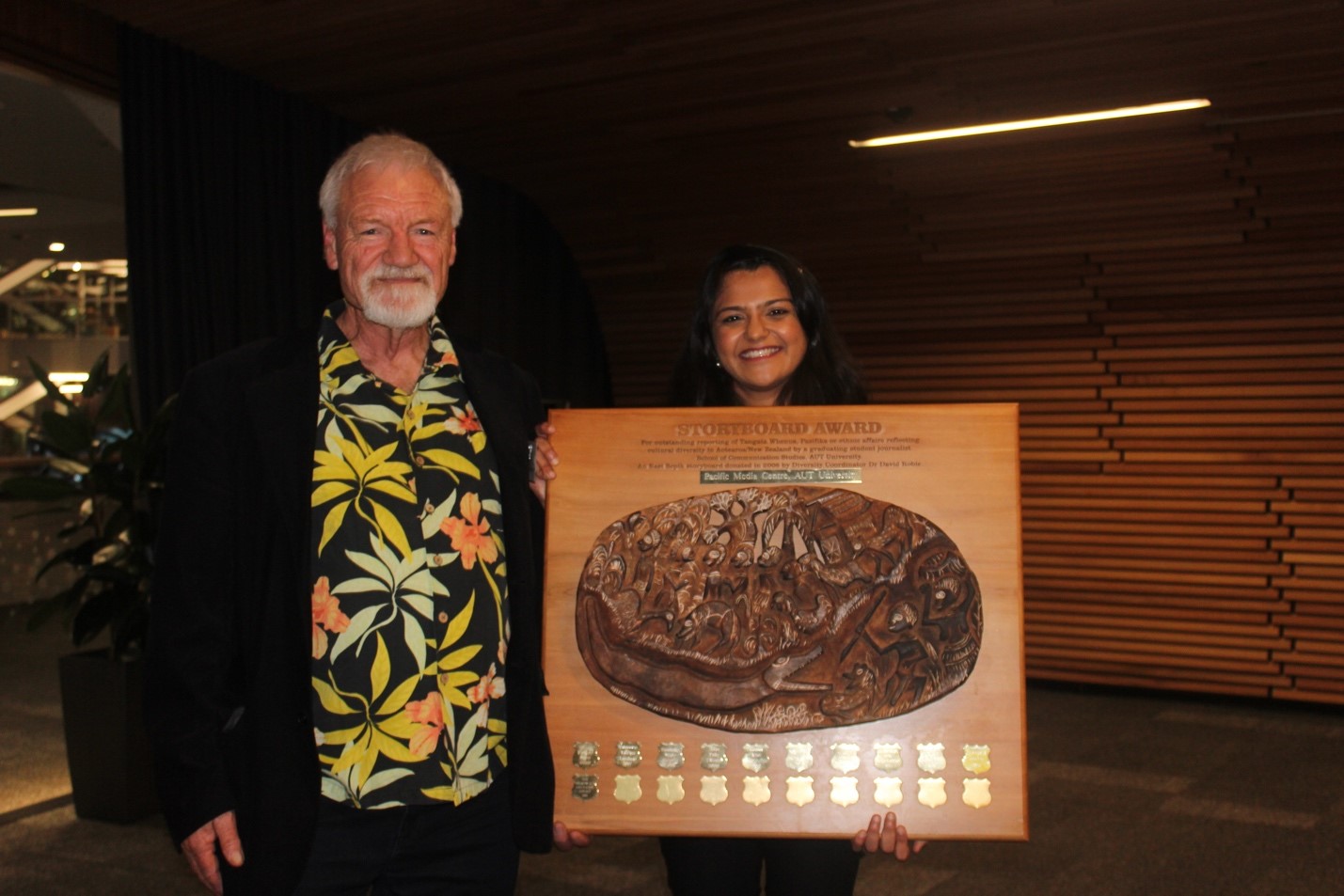 Professor David Robie and Ami Dhabuwala who received the 2017 Storyboard Award. Photo by: Queenie Jose
Her trip to Fiji last year and a passion for global journalism had won her this award, she said.
"If we want a diverse culture in New Zealand we should have international students address or share knowledge in other cultures."
Communication Studies postgraduate scholarships were awarded to Shirin Brown, Jayakrishnan Sreekumar, Rebecca Trelease and Chao Zhang.
Another AUT journalism alumnus, Janie Cameron was named top postgraduate student in creative practice. She shared her insight, telling the audience that for such a "small country we have a lot of problems" and her role as a journalist was a "unique voice to the voiceless".
Former Te Waha Nui contributors were also honoured: Andrew Hallberg received excellence in broadcast journalism, Sam Hewat took home best postgraduate diploma in Communication Studies, and Ophelia Buckleton was named outstanding graduate in the BCS Journalism major.
The awardees were given cash, a plaque of recognition and internships based on their specialisation. The full list can be found here.