Sydney sweeps Kiwi unis at Oceania 3x3 World Cup qualifiers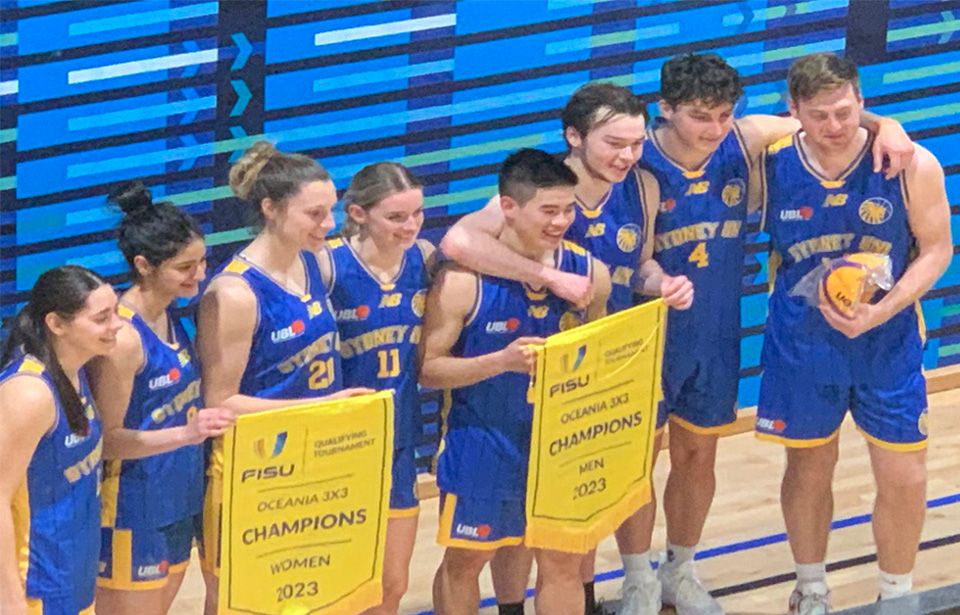 University of Sydney Men's and Women's are Oceania 3x3 Champions 2023. Photo: Alan Gautusa
It was a Sydney sweep at the Oceania 3x3 Basketball World Cup Qualifying Tournament on Saturday as University of Sydney took out both men's and women's divisions.
The men's team made an impressive run winning the most games in the competition's finals day including against fellow Australians from Monash University for first place.
The University of Sydney women skilfully shot their way to the top, beating New Zealand favourites University of Lincoln 21-18.
The two-day tournament was organised by the International University Sports Federation, which invited universities from all over the continent to compete in the varied sport.
It was an intense and fast-paced competition of high-level street basketball at Auckland University of Technology's Te Ahuru Recreational Centre.
Centre for AUT's Women's Basketball team Trinity Paeu has represented Mary Hardin Baylor Crusaders and says the format is a lot more physical.
"You have no time to rest," she says.
"It's a lot more physical. The refs are a lot more lenient here, so you can do more fouls."
Point guard and shooting guard for AUT Summer Jean Motufoua has represented New Zealand at the highest level and says the 3x3 game exposes your weaknesses.
"It's a lot of one-on-one play. So, you got to have a lot of things in your bag to score . . .You got to have a bit of everything here - defense, be able to shoot, finish, fitness."
The tournament hosts finished in third place after being outmuscled by rivals Lincoln University in the semi-finals and beating Wollongong University for a podium spot.
AUT Recreation manager Bruce Meyer says it was a different calibre of competition and he was ecstatic about the turnout of the event.
"It was AUT's first time hosting an international event like this. There are things we could improve such as the technicalities of livestreaming the games, but overall, it was awesome," he says.
University of Sydney's men's and women's teams will now represent Oceania in the FISU University 3x3 World Cup in October 2023.