Cuban Salsa Club wants AUT students to fall in love with dance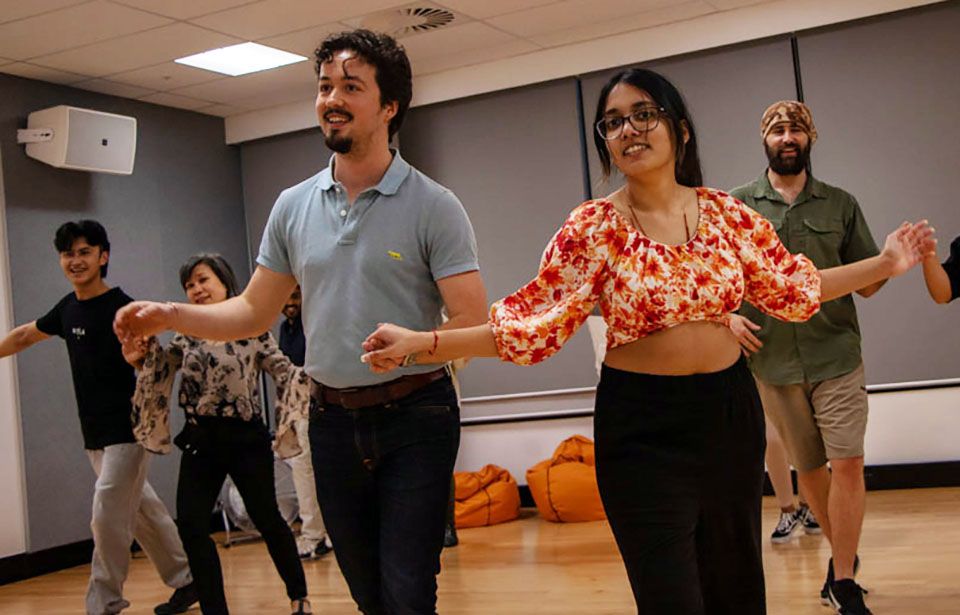 President Mackenzie (Mac) Smith, front left, leads a session at the Cuban Salsa Club. Photo: Katherine Parsons
AUT students are being invited to dance their evening away with Cuban salsa.
Every Monday night, the Cuban Salsa Club comes together at the AUT Te Ahuru Recreation Centre.
Free for all AUT students, the classes run between 5 pm to 7 pm, with a mixture of experienced and novice participants.
Mackenzie (Mac) Smith, a first-year AUT student studying a bachelor of business, began teaching the classes early this year after the previous club president resigned.
"I've been very lucky with my salsa experience [because] I've learned from some of the best teachers in the country, which is very humbling," he says.
The salsa club has been around since around 2021, but over the past year, there has been a shift from Los Angeles (LA) and Linear Salsa style to something a little different.
"What I dance and teach is Cuban Salsa, which is a little bit different; it's not as popular in Auckland, but for me, it's a lot more fun."
Smith says that dancing salsa has led to a lot of personal growth and for an activity that is "not culturally accepted [in New Zealand], it takes a lot of courage and confidence.
"New Zealand as a culture, we're quite averse to dancing; we're not dancers naturally.
"Especially the guys, we don't like getting out of our comfort zone. For us, it's something very daunting: dancing, so it's a great opportunity to. . . push yourself a little bit, step outside of that comfort zone."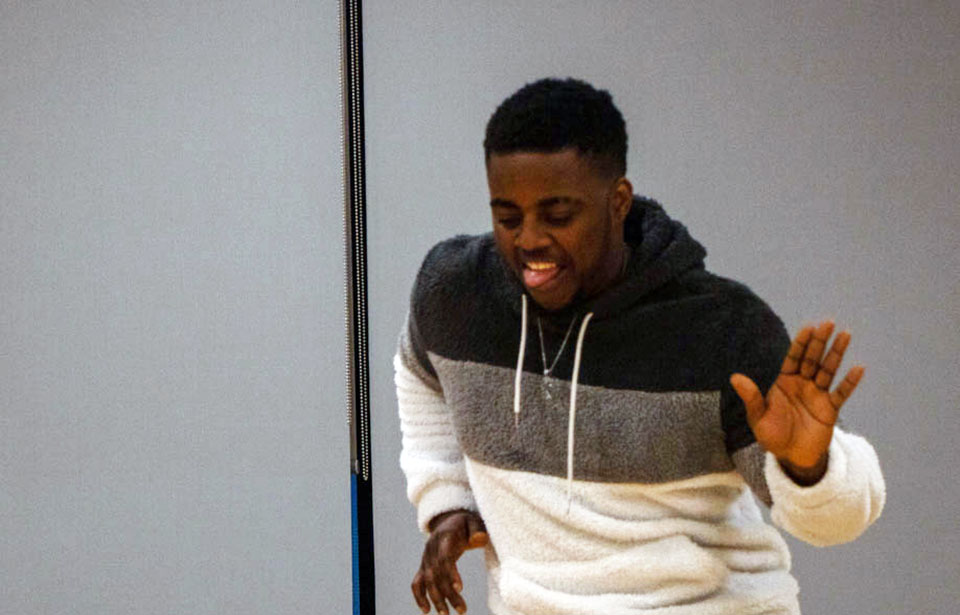 PhD student Francis Anyanka gets in the groove. Photo: Katherine Parsons
PhD candidate Francis Anyanka has attended the classes for about four months and has a dance background in afro, afro-fusion and hip hop.
He says salsa is "a different type [and] comes with a whole different orientation".
"When other dances go four-count, four-count, salsa goes three-count-pause, three-count-pause," says Anyanka.
"It's so fascinating that every dance move has a Spanish name, so when they call it out, you have to remember what you're actually doing."
Vice-president of the club Dion Hemmes, in his final year of a double major in computer sciences, joined the club in 2022.
"The culture I've seen in New Zealand is a lot of people going to the club, and the goal might be drinking to get drunk and to pick up girls. . . whereas salsa creates an environment where you're dancing for the sake of dancing, just to enjoy and have a good time," he says.
As an AUT club, the social element is as important as the dancing, and Smith encourages everyone to attend.
"We're all about it being a welcoming atmosphere where people can comfortably do that," he says.
"There's a focus on dancing as well, but I don't want it to be so dance-central that it's scaring people off, so if people do just wanna come and hang out, please do."
"It's a whole lot like we're family; we do go out sometimes [and] go for salsa social nights," says Anyanka.
"So it's very fun. . . like a community movement here."
Smith has been instrumental in the progression from LA to Cuban Salsa this year.
"Linear Salsa or On2 Salsa are the kinds that you find more so in Auckland; I tend to find it quite ballroom-y, a little bit uptight, a little bit too serious," he says.
"Cuban salsa is looser [and] it's got more of an Afro-influence; it's more about having fun for me.
"It's what I started out learning, so there's probably a bit of bias. . . but for me it's what I love."
As his university career comes to a close, Hemmes was happy to support the change from LA to Cuban Salsa with Smith at the helm, saying it's "better to push it in the direction where the next person [Smith] who's going to be leading can continue it further."
"I could see a passion in Mac here that was gonna take it a little further, so that's why we started adapting the club."
The club's primary goal is growth, with Smith and Hemmes encouraging everyone to get involved.
"It's quite hard at university because you have exams and other commitments. . . to get people consistently coming through," Hemmes says.
"The biggest challenge has been getting the word across to others."
"My goal really is to get as many people as possible to experience what I've experienced. . . and fall in love with it like I have," says Smith.
Download the AUT Student App to find out more about the classes and sign up.