AUT Māori's op-shop supports students and sustainability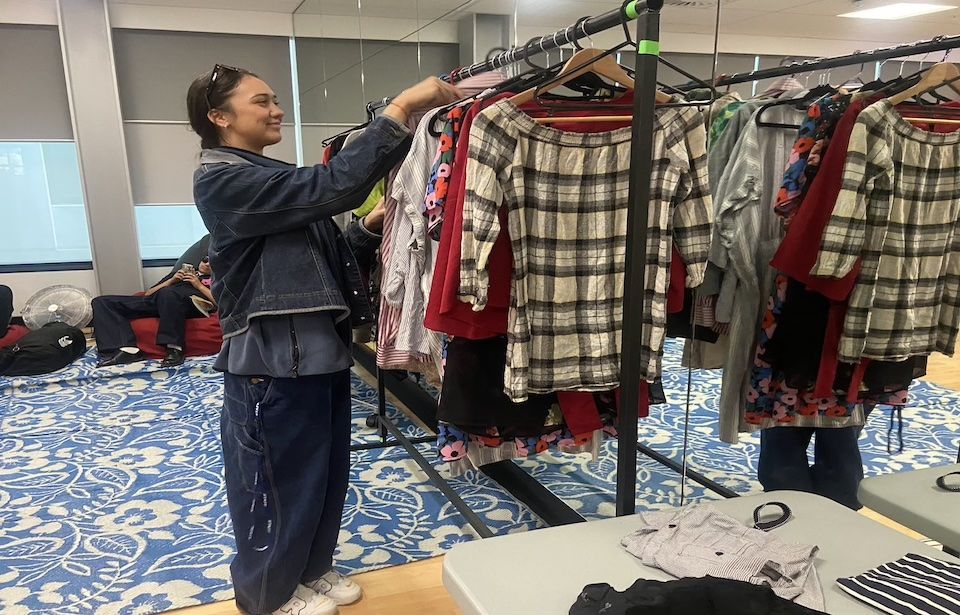 AUT Māori's kaiārihi, Georgia-Rae Jones, scans a rack of donated clothing. Photo: Tofoi Lafaitele.
A group of Māori AUT students are embracing environmental sustainability and providing free clothing to the student community through their annual op shop event.
AUT Māori runs the annual Hokohoko initiative —a pop-up op-shop event where donated clothing is made available for students to take, free of charge.
This year's event took place on May 1 in AUT's Te Āhuru Recreation Centre.
AUT Māori kaiārahi (mentor) Georgia-Rae Jones was overwhelmed by the amount of support shown by staff and students.
"People had classes and tests today, and they still came through," she says.
"It's been so amazing, seeing the unity within the community. . .That's my favourite part, personally."
This is the second year of the event, and Jones emphasised that the goal is to support students who might require clothes.
"To anyone's eye, it looks like a cool pop-up event," she said.
"But in reality, we [want] it to be for any students that need it, without putting out the idea that it is charity."
The purpose of the initiative is also apparent in the name, Hokohoko.
"I know that 'Hokohoko' means 'hand-me-down,' I believe, so that's the whole idea of the event - it's just to hand off your clothes that you don't need any more to someone that might actually want or need," Jones said.
In addition to donating free clothing to students, Jones says the Hokohoko op shop is one way that they are encouraging environmental sustainability.
"Another element to it is being more friendly to the environment because we're not trying to throw out our clothes - we're trying to recycle them and pass them on. . ."
Māori are considered kaitiaki of the land, so Jones recognises the importance of being environmentally conscious.
"It's our duty as the kaitiaki, especially as we are Māori and this is our land, to look after it and stop adding to the landfill and all the rubbish," she said.
General manager of customer, strategy, and sustainability at Waste Management Ingrid Cronin Knight, made a statement in support of op shops.
"I'm very supportive of op shops, which give clothing a second life and it's great to see more people using them."
Knight also offered a more environmentally friendly alternative to tackling textile waste.
"The real solution is for consumers to buy less, and when they do buy, choose natural fibres like cotton, wool and linen.
"Natural fibres break down in a landfill and we then capture the landfill gas released and convert it to electricity to feed back into the national grid. Synthetic materials, such as polyester, do not break down and will sit in a landfill for hundreds of years," she says.
More than 220,000 tonnes of textile waste end up in landfills around New Zealand each year.