AI benefits outweigh the risk despite fears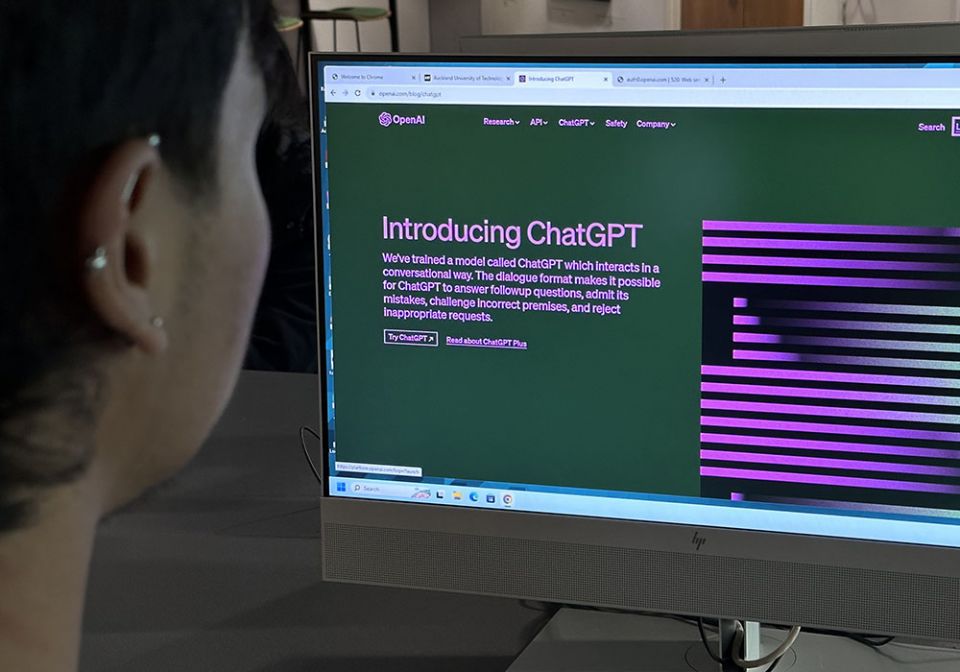 AUT student using AI website ChatGPT. Photo: Tiana Thorpe
Artificial intelligence affecting their jobs and lives is concerning university students according to a poll, despite reassurances about the benefits.
A majority 56% said that they were worried they could be replaced by AI in their job or profession when asked in the survey.
One student said that they were worried that people who have trained a long time will lose their jobs while others will become reliant on AI in the workforce.
Edmund Lai, professor of engineering, computer and mathematical sciences at AUT, says that AI has been around a long time but there is a growth in concern with how it is used.
"There is an increased interest, basically because we are in touch with a lot more conversation related to AI nowadays."
But Professor Lai believes the opportunities available are worth the risks.
"Just like any tool, there's a positive side and a negative side. The positive side is that we can do a lot more with those tools than before and do it perhaps more efficiently".
He believes that with these fast-developing tools, the AI itself isn't necessarily a negative, but it is down to the interpretation from users.
Universities have been first hand witnesses to the steady increase and use of AI tools such as Chat GPT, with 75% of survey participants admitting they have used it.
"We have to take ownership of what we use rather than how it's being generated."
He believes that Chat GPT just relays information, and doesn't actually possess knowledge.
This means that the questions that the user asks are just as important as what is being generated back for us.
"They're simply a prediction machine; the program doesn't actually know what it is writing. If you read through it and pick up any other elements that are incorrect, and you correct them yourself, I don't see a problem with that."