Waiheke will be lit up by cyclists cruising the island after dark in the Waiheke Bike Rave on Saturday.
The all-ages, free event run by Cycle Action Waiheke and Auckland Transport is an island first.
Organiser Carys Templer says she is excited to get the Waiheke cycle community together.
"The mountain bikers, the road bikers, the young people, the families – this could be a way of getting the whole cycle community to come together for a bit of fun," she said.
Cyclists are encouraged to dress up, add some lights to their bikes and bring a speaker.
Templer is making the tunes for the event a team effort.
"It's quite fun creating the playlist... I invited people in the community and asked, what song do you want to hear while riding around?" she said.
The pre-party kicks off at 5pm, at the Waiheke Sustainability Centre on Mako Road. There, cyclists will enjoy a vegan BBQ and face painting before the main event.
BikeBox volunteers will be onsite to help with any immediate bike needs, such as cleaning chains, if needed.
The 7km cycling event starts at 6pm. Cyclists will follow a route from Oneroa to Owhanake and back, ending at Blackpool Hall.
After the cycling, riders will be greeted by DJ CHIKAA, a Waiheke DJ, for a dance to celebrate the event.
The Bike Rave concept was brought to Tāmaki Makaurau in 2015 by cyclists Emma McInnes, Anja Vroegop and Lennat Nout.
McInnes told TWN that the idea came from a family of Canadian cyclists.
"The Bruntletts came over to New Zealand and presented all these cycling initiatives they were doing in Vancouver – including the Bike Rave," she said.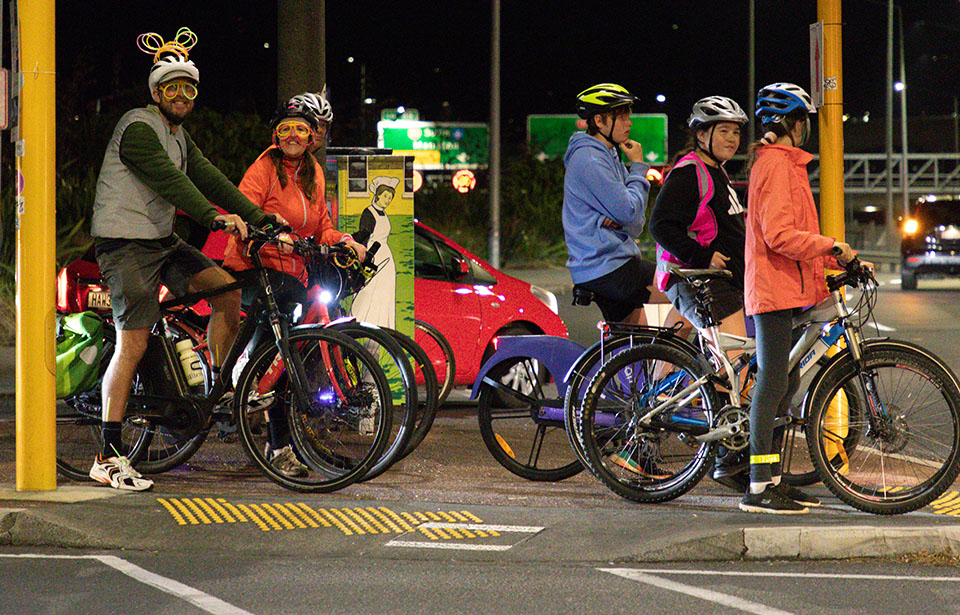 Cyclists in the Point Chev Bike Rave Photo: Alex Cairns
After hearing about the concept, McInnes, Vroegop and Lennat ran their first New Zealand event in 2015.
"It was super popular straight away and hundreds of people turned up," McInnes told TWN.
"There's no other mode of transport that has a whole community," she said.
The event has since been replicated by others across the country.
The most recent Bike Rave event took place in Point Chevalier at the beginning of May 2022.
"It's really wonderful that other people are doing it," McInnes said.
For those who don't own a bike but want to attend the Waiheke Bike Rave, Bikes and Barbers on the island is offering e-bikes for hire on the night.
Bike lovers on the mainland are also welcome to come over and take part.