Traffic lights could be added to a "dangerous" Three Kings intersection as part of an Auckland Transport plan to improve walking and cycling safety.
The proposals are funded by Auckland's regional fuel tax and make up the second phase of the $3.1 million Mt Roskill Safer Communities project which was launched in November last year.
In its consultation document, Auckland Transport said it would set up controlled pedestrian crossings with traffic lights and paint dedicated areas for cyclists at two intersections on Mt Albert Road.
They are the intersection with Frost Road and by the Countdown supermarket at the Three Kings Plaza with Hayr Road and Dornwell Road.
The changes would also convert an existing Mount Albert Road pedestrian crossing in front of the Three Kings Plaza into a raised table level with the footpath.
Jon Turner, the deputy chairperson of the Puketāpapa Local Board, told TWN the Hayr Road and Dornwell Road intersection was "quite dangerous" for pedestrians as the spot had seen 12 crashes in the past five years.
"The pedestrian crossing isn't raised and often has cars coming at really high speeds and they don't stop for pedestrians."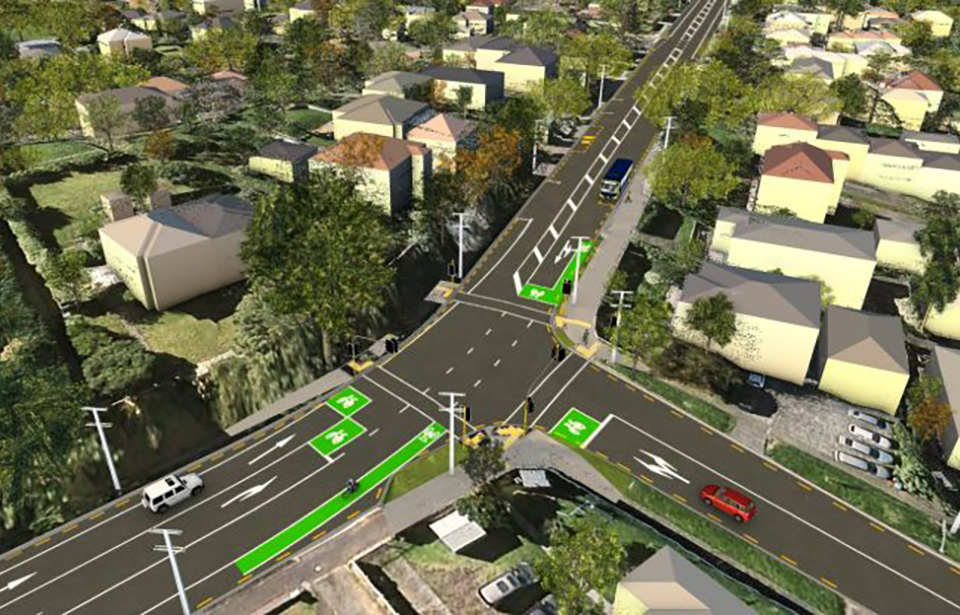 The intersection with Frost Rd. Image: Auckland Council
He said the Frost Road intersection needed improvements because it had a lot of foot traffic during school hours and there would be an increase in cars once a 1500-home housing development at the nearby former Three Kings Quarry was complete.
Mr Turner also said the changes were to make it safer for pedestrians and cyclists to cross the road because "there isn't anything there".
"It is an arterial road so it's important to start making provisions to cyclists.
"Over half of the deaths on Auckland roads are pedestrians and cyclists outside of cars so we need to be making it safer for people to walk, considering there's a school right there.
"If we could be making it safer for kids to cycle to school and walk to school, that's really important."
Two consultation sessions were originally scheduled for August 24 and 25 but they have been cancelled under Covid-19 Alert Level 4 conditions.
The public can still provide feedback on the proposals at Auckland Transport's website.