Uncertain future for Orakei tunnel after council funding cuts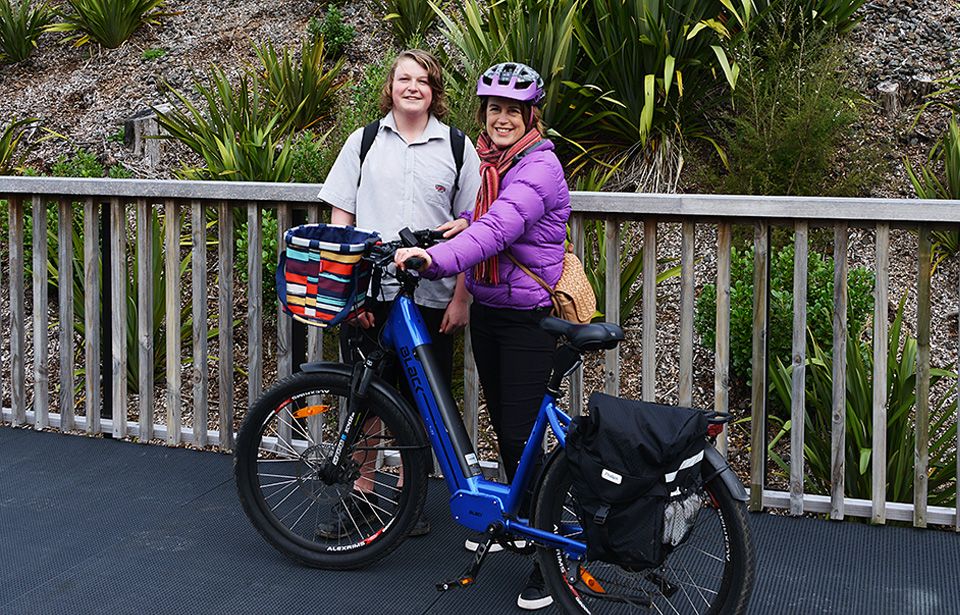 Charmaine Vaughan and 15-year-old Dylan Vaughan at the site of the proposed tunnel. Photo: David Saran
The proposed Gowing Drive tunnel, designed to connect Gowing Drive in Orakei to a recently constructed cycle and footpath, is facing an uncertain future as funding cuts threaten its completion.
Originally slated for completion between August and October, the project now faces delays due to financial constraints, sparking outrage from the community.
The Gowing Drive tunnel project is a key part of a broader initiative by Auckland Transport (AT) to enhance transport options and ease traffic congestion in the Orakei area.
If completed, it will link Gowing Drive to Te Ara ki ta ki Tai, also known as the Glen Innes to Tamaki Drive shared path.
The newly completed cycle and footpath, extending from the Orakei Railway Station to Kohimarama Road, has already upgraded pedestrian and cyclist access.
The proposed tunnel beneath Gowing Drive aims to further enhance connectivity between Orakei and Kohimarama.
An email from Sandy Webb, project and business interface lead at AT, which was shared with TWN, outlined the project's phased approach. The primary stage includes the construction of an underpass and shared-use path.
Subsequent phases involve a boardwalk connecting Glen Innes to Tamaki Drive's shared-use path, followed by safety enhancements along Gowing Drive.
However, the project has encountered significant setbacks due to unforeseen funding cuts.
AT's plans to lodge a resource consent for the tunnel have been delayed because the agency is grappling with budget reductions and reallocation of funds for emergency road repairs, Webb's email said.
Discussions between funding partners such as Waka Kotahi NZ Transport Agency and Auckland Council are underway to determine the project's fate.
Community members have voiced their discontent over the delay.
Anticipated benefits of the tunnel included reduced travel times for students attending nearby schools like and decreased traffic congestion on local roads.
Cycle advocate Charmaine Vaughan said the tunnel was an opportunity to encourage eco-friendly commuting options, thereby curbing carbon emissions.
Dylan Vaughan, a 15-year-old student at Selwyn College, said the tunnel would provide access to a network of shared paths, which would reduce local traffic.
Dylan noted many parents drove their kids to schools across Pourewa Valley, contributing to congestion.
With the Gowing Drive connection, students could walk, scooter, or bike, easing pressure on main roads like St Johns Rd and Kohimarama Rd.
He also highlighted the opportunity for children to stay active, benefiting their physical and mental well-being.
In addition to community benefits, the Gowing Drive tunnel aligns with the Transport Emissions Reduction Pathway (TERP), contributing to Auckland's sustainable transportation goals.
Notably, the required property acquisitions are complete, and the rail line in the area is inactive.