'Save Pt Chev Library' - signs spark fears for much-loved library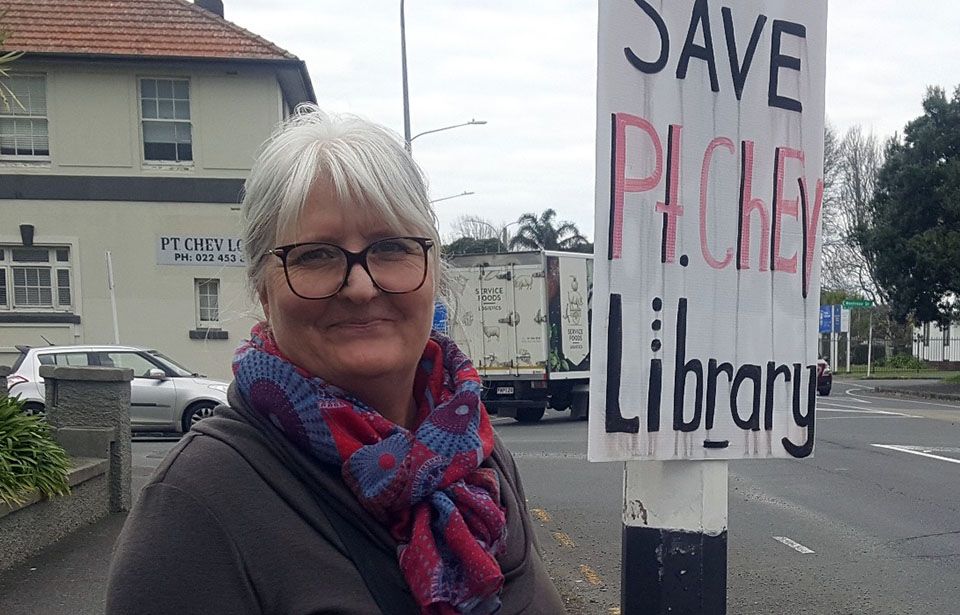 Point Chevalier Homestead Op-shop volunteer Caron Williams is worried the library might close. Photo: Nina Tapu
Signs strapped onto random poles in Pt Chevalier have spawned concerns from locals for their library's future.
Auckland resident Fiona Robertson was on her way to return her library books when she saw a 'Save Our Library' sign on Great North Road and was surprised to find the library was now operating from the Point Chevalier Community Centre.
"I'd seen the sign about 'Save our Library' but didn't know much more about it."
The signs started springing up around the neighbourhood after Auckland Council closed the library building for repairs due to a leaky roof in October last year.
Kevin Marriott, head of community delivery, said council staff had been exploring options for the much-loved service and building, and that the work involved an assessment of current and future community needs.
The Albert-Eden Local Board will consider the Pt Chevalier Library's future at its board meeting on September 28.
Margi Watson, chair of the Albert-Eden Local Board, said decisions made about the Pt Chevalier library would be discussed as part of its "monthly business schedule" and that the public could view the report that will come out of that meeting when it became available.
"My suggestion is people come to the meeting on the 28th [of September]."
Robertson said that if the library was closed down ,"the community will be poorer for it".
"I just think [the] council wastes so much money on stuff that's not on core services but providing libraries and everything that they offer I think is a core service."
She travels from Westmere to use the Point Chevalier library and worries that if it was closed down people would need to go up to Grey Lynn or Mt Albert.
"It's quite a long way to go if you're a parent with kids and don't have a car."
"It makes it a really big deal to get to the library and elderly people - there's still quite a lot in Point Chev - they don't necessarily drive."
Point Chevalier Homestead Op-shop volunteer Caron Williams said she was concerned about those who may miss out on having a library.
"It's a very necessary building for the local population. It's just a nice, friendly place and it's a great spot to be a community centre even though it's not a hub, it's a library, but it could easily double as both of those."
Williams has used the library's free internet service to do research for her studies, kept up with what's going on in the area through the "What's On" initiative and has sought the assistance of a Justice of the Peace.
She reminisced on a past 'Book Corner' event that led to her meeting one of her favourite authors.
"Terry Pratchett came in years ago. I took one of my old books along and he signed it and he talked about how it all came about."
She lamented that it was experiences like that that would be lost if the library was closed down.