Aucklanders have just a few days left to comment on changes that would allow Auckland Transport more freedom to develop the inner-city as it sees fit.
Waka Kotahi is looking to make sweeping changes to how a road-controlling authority like AT manages local roads.
Currently out for consultation, Reshaping Streets would give Auckland Transport (AT) a mandate to move quickly on nearly every aspect of street design through the use of pilot trials.
Changes would not require consultation, but would include feedback during trials instead.
Adjustments to pilots could be made on the fly based on what is and isn't working, and after a trial is complete, AT could decide whether to make the changes permanent based on the feedback received.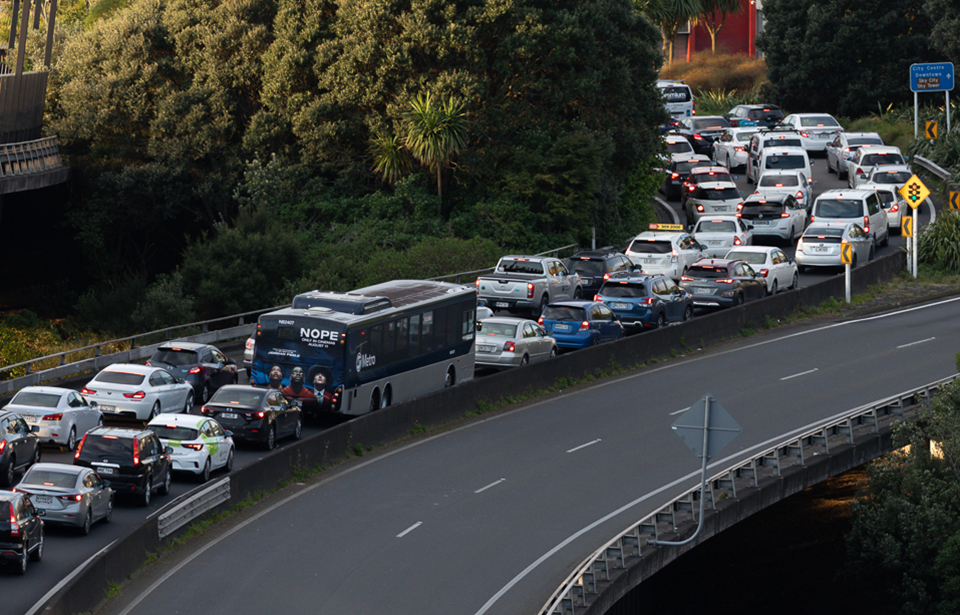 WAKA KOTAHI is CONSULTING ON LEGISLATION THAT WOULD GIVE AUCKLAND TRANSPORT NEW POWERS TO more easily CHANGE ROAD DESIGNs. Photo: ALEX CAIRNS
What could Auckland Transport change under the new rules?
Car parks could be removed to make way for cycle lanes and bus routes.
Red tape would be cut, allowing communities and business to more easily apply to close roads for events such as play streets, fairs and markets.
Schools could temporarily get streets closed to through-traffic during drop-off and pick-up times.
Pedestrian malls, such as the one in St Patricks Square, could become a more common sight.
TWN spoke to groups in central Auckland to get their initial thoughts on the Waka Kotahi plan.
Parking is the lifeblood of small business
Paul Stephenson, chair of the Grey Lynn Business Association, says he is worried the plan would give AT too much power.
He says the group already has concerns about AT's developments of streets. Issues at the West Lynn shops are an example of an "error-ridden" project with "poor outcomes".
"They spent an awful lot of money on it and annoyed a lot of businesses.
Stephenson says he is concerned that cycle and bus ways will take precedence over the nearby parking which is the lifeblood of local businesses.
He says the plan could have "unintended consequences" and thinks there would be better ways to meet emission-reduction goals.
"What you end up having is a whole set of communities that's not serviced by shops and businesses that work for them.
"And then ironically, those people then have to get in their cars and drive somewhere to access those shops because they are not available locally.
"A thriving village atmosphere can only come from thriving local retail," he says.
Stephenson says the association supports modernising city infrastructure, but a two- year trial is too long.
"[You're] placing a huge amount of power in an organisation we believe makes serial mistakes and you are removing the ability for communities to have an input into their own future," he says.
However, he says the association welcomes the idea of closing roads for markets, fairs and other events that build a sense of community.
"The more creative ways we can use our streets and use that to build our local businesses and our local communities the better. Go for it."
City centre residents would find creative ways to bring streets to life
Auckland CBD residents "absolutely" would make use of closed streets for community events, says Adam Parkinson, deputy chair of the Auckland City Centre Residents' Group.
"This is exactly the sort of thing we would like to be able to do more of.
"There will be a whole lot of stuff that people will creatively come up with to bring life to our streets in the city centre and bring life to our neighbourhoods in ways that we just can't really do right now," says Parkinson.
He says the group is very supportive of the whole proposal.
Existing laws and regulations are "cemented in vehicle dominance" and it has been too difficult to close streets for community events.
He says local residents want to see more pedestrian malls in the city.
"The biggest thing for us will be easier creation of more public space . . . all that sort of thing has flow on benefits like cleaner air, quieter streets and just better city-centre neighbourhoods for residents to live in," he says.
Parkinson says the best part of the proposal is making the trials easy to implement.
"We think there's too much consultation.
"The trials actually give people a chance to see it on the ground for maybe a year or maybe two years, and that often does change people's perspective," he says.
Cyclists endorse try-before-you-buy approach
Patrick Morgan, project manager of Cycling Action Network, told TWN a system of "try before you buy" will actually have better safety outcomes that one involving prior consultation.
"People have the opportunity to try the changes and then respond. This is much better than commenting on draft plans. All street designs still have to pass a safety assessment.
"It's like when a salesperson asks you to taste a new product at a supermarket. You get to try before you buy. It makes sense," he says.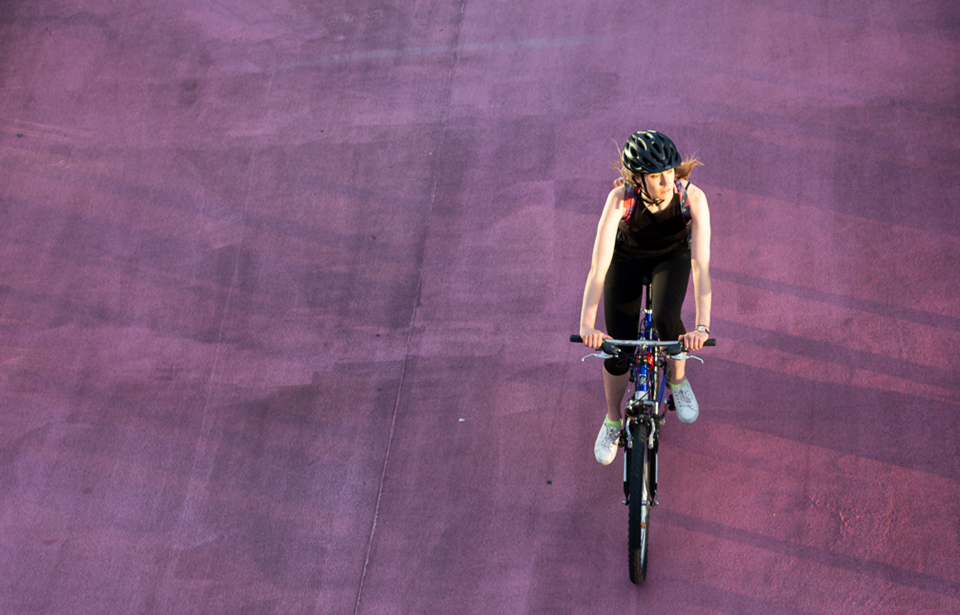 RESHAPING STREETS IS PART OF THE GOVERNMENT'S EMMISSIONS-REDUCTION PLAN. Photo: ALEX CAIRNS
Morgan says local government organisations "lack the tools" to reduce congestion, make streets safer and meet emissions goals.
"Reshaping Streets provides some of those tools, by making it easier to redesign streets that are safe, attractive, and that support more cycling and walking," he says.
Morgan says more cycle lanes will "absolutely" get people out of their cars.
Asked if the changes would give AT too much power, he said: "No."
Many people hated the expense, risk, pollution and hassle of driving. "Providing street designs that enable more cycling and walking is a winning idea.
"Well-run trials all around the world and in New Zealand have been popular and successful. Bring it on."
Proposal may not work for all schools
Riki Teteina, tumuaki principal of Newton Central School invited TWN to see first-hand the challenges the school faces at its Monmouth St address.
Around 330 children attend the central Auckland school which is down a one-way street in a parking-challenged area. How safe is it, we asked? "Not very safe at all," says Teteina.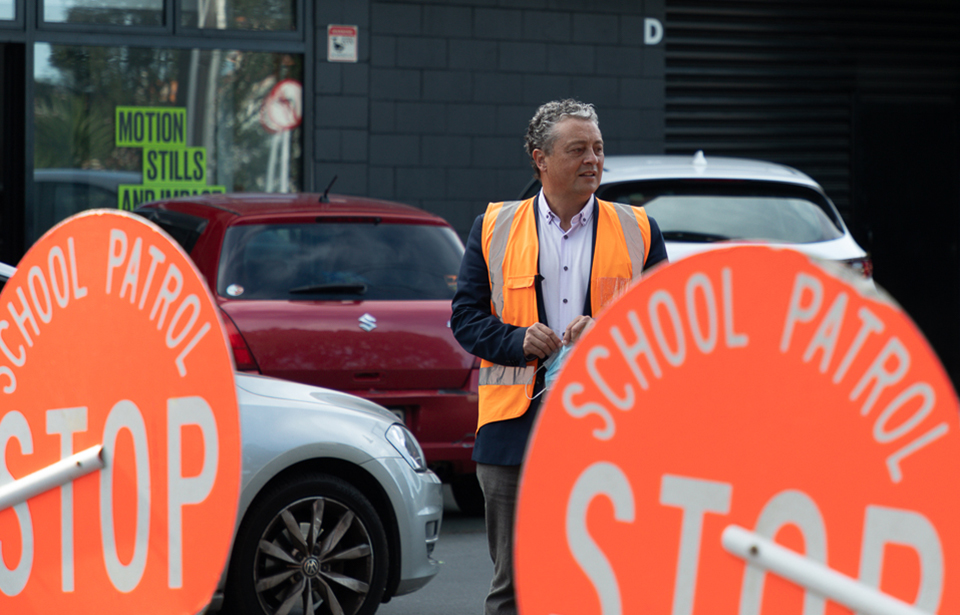 RIKI TETEINA, TUMUAKI / PRINCPal at Newton Central SAYS STAFF HAVE HAD TO BECOME A WELL-OILED MACHINE TO MANAGE SCHOOL TRAFFIC. Photo: ALEX CAIRNS
Although the plan for school streets may work for some schools, simply closing Monmouth St isn't a solution, he says.
More than 100 students come from all over the city to participate in the school's Māori programme, says Teteina.
"They're coming from as north as Albany, as west as Rānui and as south as Papakura . . . there is a need for [parents] to actually pick up their children.
"[Getting] everyone off site and into cars safely is quite a process," he says.
Moving the pick-up and drop-off point further away would increase risk to children who would have to navigate difficult traffic.
And it would be hard to monitor, he says.
"There needs to be a specialised structure for each individual school that suits the needs of their community.
TWN witnessed the pick-up operation. Cars were stacked bumper to bumper and around the corner as senior staff guided small groups of children across the road and into vehicles.
He says a plan developed with Auckland Council and AT before the pandemic was to reverse the flow of traffic and establish a permanent pick-up zone where children could enter the passenger side of a vehicle.
"This is something that needed to be solved three years ago and the longer it's been put on hold the more challenging it has become," says Teteina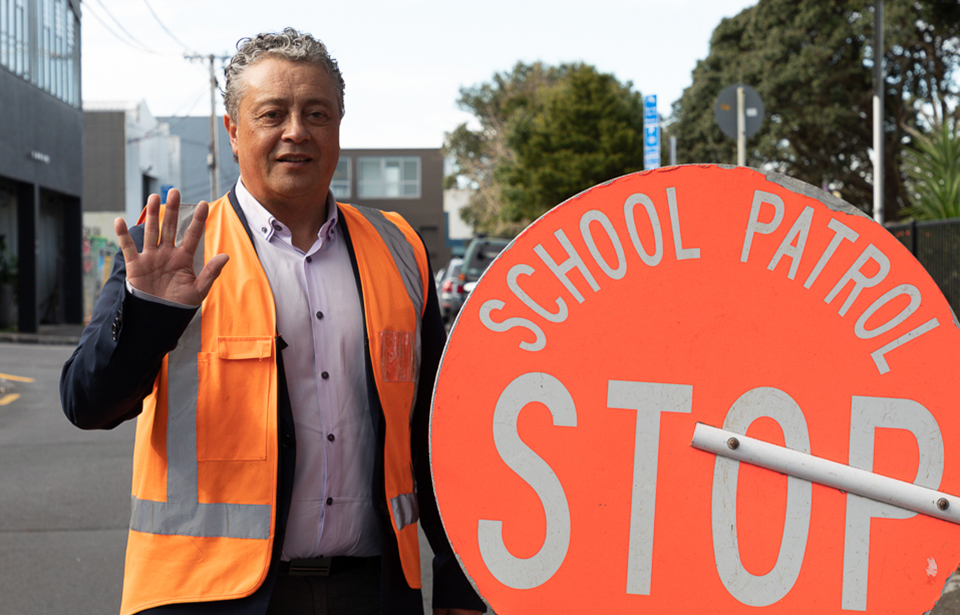 RIKI TETEINA SAYS IT IS ONLY A MATTER OF TIME BEFORE A CHILD IS HURT ON MONMOUTH ST. Photo: Alex Cairns
Although closing the street at pick-up and drop-off times may not work for Newton Central, the law change could give AT the mandate to quickly implement a new street design for the school.
Teteina says the school would "absolutely" benefit from closing the street for events.
He says street galass and Matariki celebrations have just been too difficult to organise with existing regulations.
Auckland Transport considers the implications
An AT spokesperson told TWN that they were unable to comment on the proposals yet, but would work with Auckland Council and prepare a joint submission on the legislative proposal.
"Once this submission has been finalised we will be able to share this publicly, but we will need time over the next few weeks to thoroughly review the proposals and consider their implications for how Auckland's transport network is planned, built and managed," a statement said.
Public consultation on the proposal is open until September 19.
Details of the proposals and ways to have your say can be found on the Waka Kotahi website; reshaping streets.