Beachlands residents and transport authorities are all for a permanent weekend ferry service from Pine Harbour to Auckland's CBD following a trial run that ended last month.
The idea behind the weekend services was to give locals an easier and quicker public transport between the Pōhutukawa Coast and the city.
Pete Moth, manager of public transport development at Auckland Transport, says city dwellers have also enjoyed the weekend service, taking their bikes to places like the Maraetai Beach on the ferry.
Skipper Kyle Greenwood told TWN the first weekend of the trial was very busy.
"On the first weekend there were a couple of sailings where there were about a dozen people left behind because there wasn't the capacity."
Greenwood said permanent weekend services for Pine Harbour would depend on Auckland Transport subsidising them.
"We're prepared to run it - we just need Auckland Transport to step up with the cash."
Moth echoed the success, saying there were an increasing number of passengers each weekend of the trial.
"There were 600 the first weekend and . . . more than 1300 on ANZAC weekend."
Pine Harbour weekday ferry passengers were overwhelmingly positive about a regular weekend service.
Beachlands local Emille Ignalaga said it would be great for her because she can't drive yet.
"It would be amazing, very convenient."
Another passenger said he would take the ferry "quite frequently" if there were weekend sailings
A survey available via QR code at the Pine Harbour ferry terminal ran for two weeks during the trial.
Of 400 respondents, 85 per cent said the weekend sailings offered met their needs.
Respondents suggested bigger boats and later sailings on Saturday evenings.
Ferries servicing Pine Harbour can take up to 99 passengers.
The trial ran alongside a 50 per cent reduction of AT trip fares, which runs from April 1 to August 31.
Moth said although the reduced fares may have made a difference, he thinks the trial would have been successful regardless.
Of the survey respondents, almost a third said the reduced fares made a difference, while almost 40 per cent said it didn't.
The remaining respondents said reduced fares were partially responsible for their choice to ride the ferry.
Moth said at this stage it looked like a permanent weekend service might start up in October, along with a new bus service between Maraetai and Pine Harbour to meet ferries.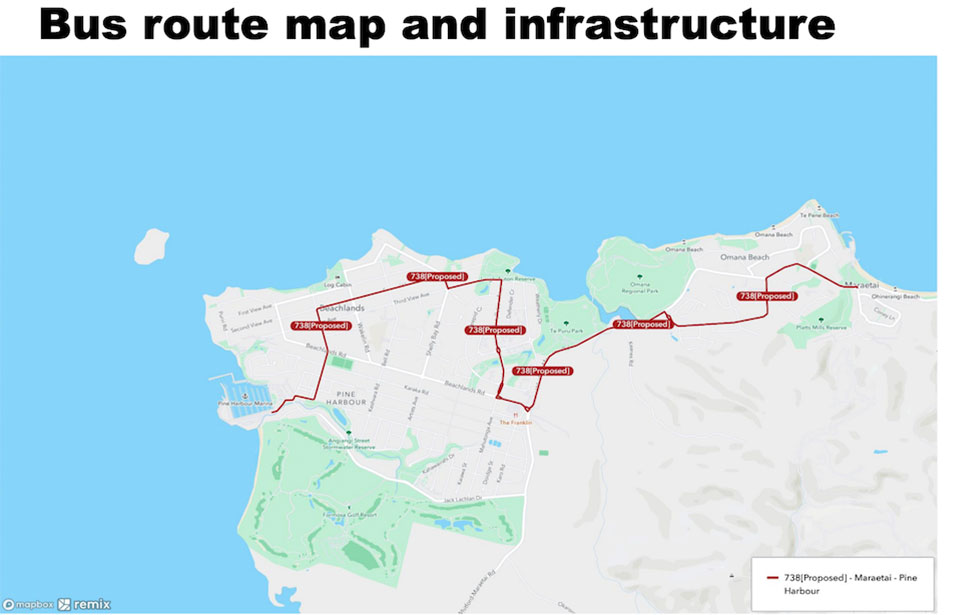 The proposed route for a bus that meets weekend ferries at Pine Harbour. Image: AT
Moth said AT and Auckland Council were discussing the budget and he couldn't yet reveal projected costs.
He said the next steps would establish if Sealink, which runs the weekday Pine Harbour service, would have the staff and technical capacity for weekend services to begin by the planned date.
The Franklin Local Board was a great help in terms of getting the Beachlands/Maraetai community on board with the trial, said Moth.
The trial ran between March 19 to 25 April 25.
Until the trial, ferries from Pine Harbour have only sailed during the week.