There's no room for a tiny feline found dumped not far from an Auckland cat cafe.
The kitten was spotted in Glenfield last week by a member of the public, who called The Cat Lounge co-owner Mike Jones.
Mr Jones said the abandoned kitten was "squealing its head off" in a cardboard box, when he picked it up at a bus stop about 500m from the cafe.
He said a vet confirmed five-week-old Buster' was "reasonably healthy" and likely not a stray, as it was clear she had been handled.
"She headbutts and cuddles – every time you put the cat down she just screams and howls for attention."
But with 20 cats at the cafe, Mr Jones is at full capacity.
"She would do well in this sort of environment I feel, but we can't just forever add cats."
Mr Jones said he didn't think the kitten was left intentionally for the cafe owners to find, as she wasn't on the same street.
He said people had come and "dumped cats" on the cafe's deck before, most recently late last year.
"[One cat] was in a cardboard box and they'd punched a hole in it, and the cat was starting to climb out of one of the holes."
Mr Jones said it was "just lazy", and there was no excuse for such neglect to happen.
"I would be happy to go out and pick up a cat rather than have to read horror stories about cats being run over or put in bins. It breaks my heart."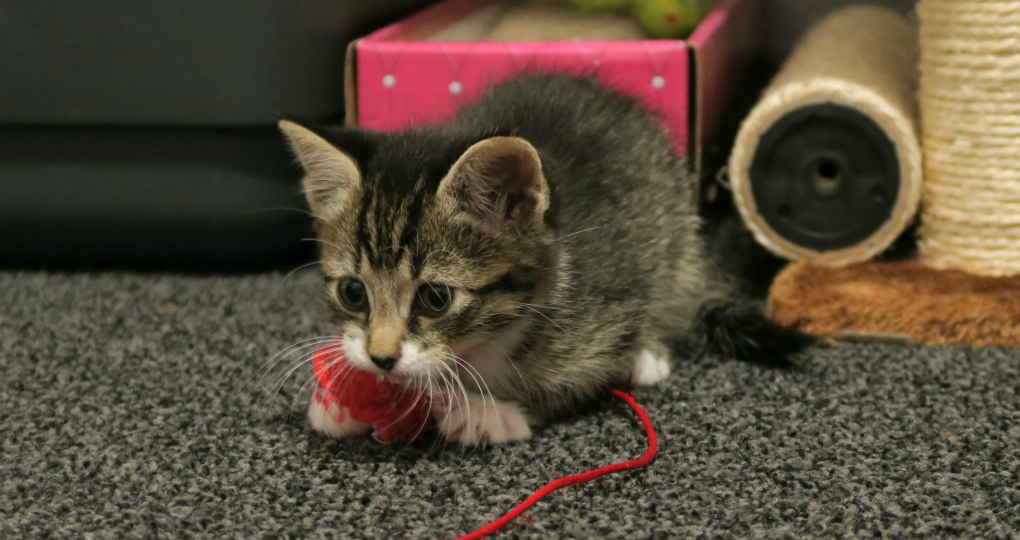 Five-week-old Buster. Photo: Nicole Barratt
He said he'd been inundated with offers to adopt Buster after he posted her story to Facebook.
Mr Jones said he had a home lined up, but he wouldn't adopt Buster out until she'd been vaccinated and de-sexed.
"It's great that there's so many people willing to adopt, but bear in mind this cat's story isn't unique to her, this is one of hundreds of cats that get dumped a week and they all need homes."
Lonely Miaow Association, a non-profit organisation dedicated to rescuing stray and abandoned cats in Auckland, worked alongside The Cat Lounge to manage deserted kittens.
Rescue manager Jamiee Hugo said Lonely Miaow received up to 20 calls a week about dumped cats.
With 300 cats in their care, she said they were "technically above capacity".
She added people needed to seek help if they felt they couldn't look after a cat.
"If they can't be helped immediately, then they need to hold onto those cats for a little bit longer until someone can get to them."
Queen St's Barista Cats manager Patty Cavill said they were "a bit worried" that someone might dump an unwanted feline on their cat cafe doorstep, but it hadn't happened yet.
Deserting an animal is an offence under the Animal Welfare Act 1999, those convicted for doing so can face a $50,000 fine.