Franklin Rd will have a new lease on life after an extensive redevelopment.
The street, whose annual Christmas lights display attracts more than 100,000 pedestrians, has been in poor shape for some time. Tree roots have cracked and shifted the footpaths, and the street's underground pipes and cables are almost a century old.
Roscoe Thorby, chandelier business owner and unofficial organiser of the Franklin Rd Christmas lights extravaganza, said the state of the street was a "sad indictment" on the city.
"One of Auckland's most iconic streets was up until recently one of its most neglected."
Pippa Coom, chair of the Waitematā Local Board, said Franklin Rd was more than just an arterial route connecting Ponsonby with the waterfront. "Arterial suggests it's just for vehicles to drive through quickly, but actually the journey itself is going to be pleasant, and I think it will encourage more people to walk and cycle."
Ms Coom said the project had been a long time coming, having been deemed "too difficult and too big an upgrade" by the previous Auckland City Council.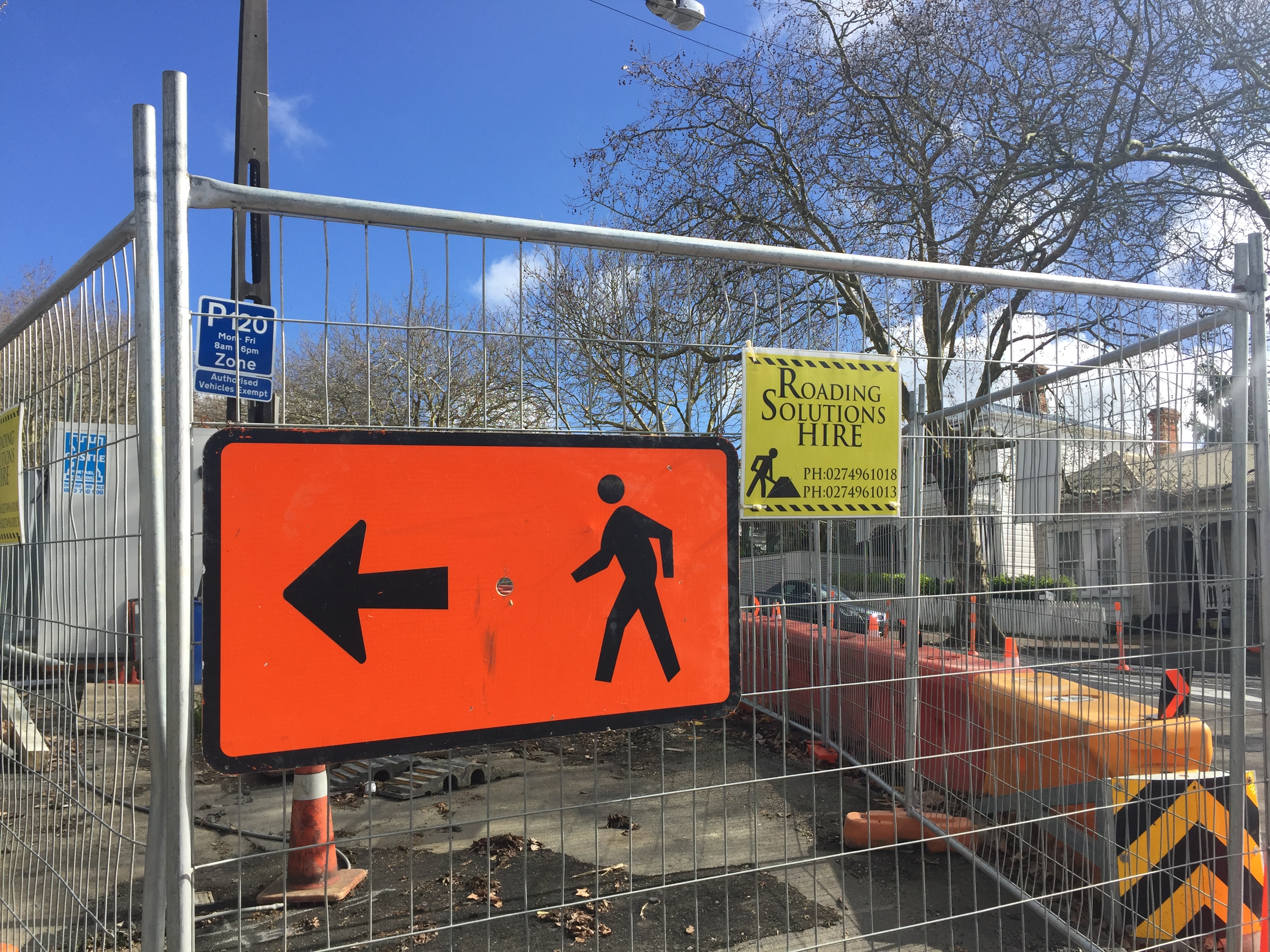 The Franklin Rd footpaths will be clear for the Christmas parade of pedestrians. Photo: Sophie Bateman.
The redevelopment focuses on safety, including cycle lanes, speed tables and a "pedestrian-friendly" roundabout.
In good news for the festive, the road's iconic Christmas lights display will not be disrupted, with construction pausing in late November and picking up again on Boxing Day.
The project was overseen by a community "liaison group" that includes some Franklin Rd residents.
Mr Thorby said this was a fairly new approach to Auckland redevelopments, and it allowed for greater community involvement in the project.
"We have had a number of plans successfully changed and altered when we could see that the results could have been detrimental to the community."
Sharleen Pihema, communications advisor for Auckland Transport, said the concerns of residents had always been considered.
"They've been pleased that, in regards to coming up with the design, we've taken on some of their concerns and their suggestions."
Mr Thorby commended the workers on the project for accommodating construction-zone residents. "Most of my neighbours who I speak to about the project are impressed with the co-operation, politeness and general atmosphere the guys in the street are projecting."
Ms Coom said the redevelopment would give the historic street a new lease on life. "It's going to be safer for all users, the trees are going to be in a better growing environment, the residents have got residential parking permits . . . it's the total package."