A year on, the community mutual aid project Food Not Bombs is cooking up 100 vegan meals a week for Aucklanders who need them.
The group was established last September and now has about 30 active volunteers across Auckland, says FNB organiser Madeleine Lifsey.
The group currently receives around eight or nine meal requests each week, providing around 10 to 15 meals per request, but this number varies, says Lifsey.
"The requests sometimes come in waves, but I think from what we've seen the needs pretty much been consistently there."
Anyone in Auckland can request meals, says Lifsey.
"If you can get to us or we can get to you and you need food, you need food."
All meals provided are fully vegan, says Lifsey, which is partly for ethical reasons but for food safety too.
In the middle of lockdown, volunteers were cooking out of their homes in keeping with Covid protocols.
The group doesn't have official leaders, operates on consensus and is non-hierarchical.
"We had a Zoom meeting to organise and we just got started . . . let's see how this goes, let's see if there's interest and there was right away, so we've just been growing since then."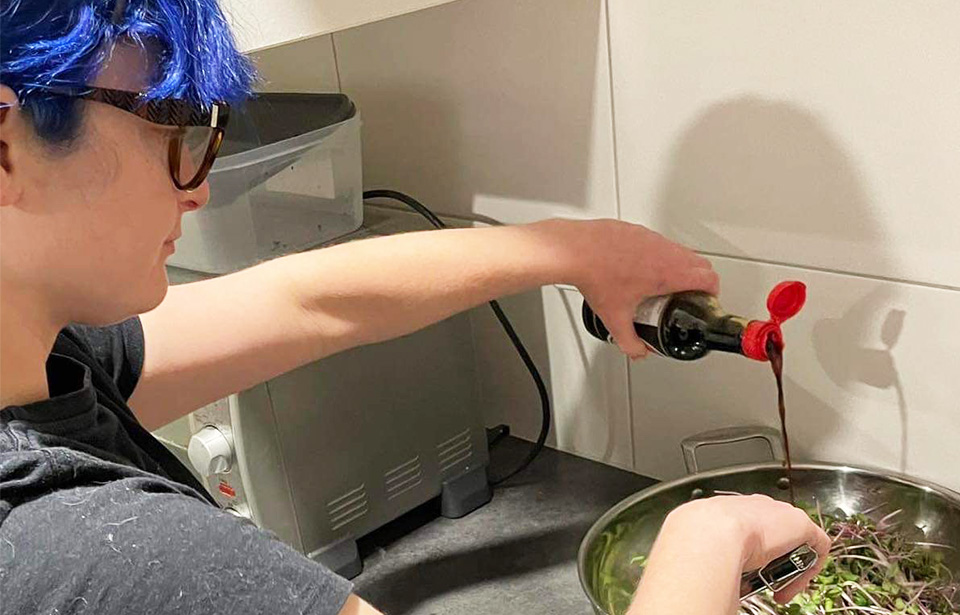 Food Not Bombs organiser Madeleine Lifsey. Photo: supplied
Lifsey says there were all sorts of reasons people were struggling to get basic nutritious meals.
Many groups were doing fantastic mahi to provide for those who needed it, but community members said they were having trouble accessing vegan kai, says Lifsey.
"[Food banks] generally had a standard food parcel box that tended to have a lot of dairy and a lot of meat in it as well."
This meant that families weren't getting the whole food parcel they needed, or weren't requesting them at all, because the food would either go to waste or they would have to find other people to take it, says Lifsey.
Media spokesperson for the Vegan Society of Aotearoa, Claire Insley, says Food Not Bombs is providing a vital service.
Being vegan is a moral decision, but allergies to certain ingredients such as lactose is also a reason for people to make that choice, they say.
Reducing food waste is a major part of Food Not Bombs, with meal ingredients being "rescued" where these would otherwise be thrown out.
Lifsey says most ingredients come from local businesses, but the response from other vegan-friendly businesses has been positive.
"We got 100kg each of sultanas and currents donated a couple of months ago and so we've had to get really creative with those."
Meals are based around what is donated, but soups, stews, and curries are often on the menu.
Lifsey hopes the group will not have to exist in the future.
"That's the idea . . . that we shouldn't have to exist, that food is a basic right."
Until then, Lifsey hopes it continues to grow and more people are able to get involved.
Jackson Green began volunteering with the group a few months ago as a meal-delivery driver.
"As a student I've got more time than money so driving somewhere to drop some food off isn't a big deal," says Green.
Green says the work is rewarding but it can be hard to see the difficult situations people are in.
The group has also held monthly community cook-ups at Gribblehirst Community Hub, where members together make two or three dishes.
These meals are then distributed either to those who have requested them, or to Mount Albert Food Bank.