Auckland's birdlife is being plagued by a widespread and deadly outbreak of avian botulism this year.
The disease has killed at least 410 birds, but the total number is understood to be much higher and to include native birds.
The naturally occurring bacterial disease has thrived during New Zealand's fifth hottest summer on record, say experts.
Dr Lynn Miller, general manager of BirdCare Aotearoa, says outbreaks of avian botulism are an annual event in the city, but the current outbreak is widespread.
The shallow, man-made ponds in Auckland's parks can have poor water quality and can be the perfect environment for the toxin, she says.
The public feeding the ducks isn't helping either – bread provides an ideal environment for the toxin, which can paralyse the birds.
"As [the disease] progresses up through the body, the neck muscles stop functioning and most of the deaths are due to drowning.
"The panic is horrid. The stress is horrendous. Just imagine the fear those poor animals are going through.
"A pūkeko may have come along and started feasting on you and you feel that pain as you're being eaten alive. But you can't do a damn thing."
She says waterfowl are probably the most at-risk because of their feeding habits, but the toxin can be passed on to other bird life such as pīwakawaka and tui.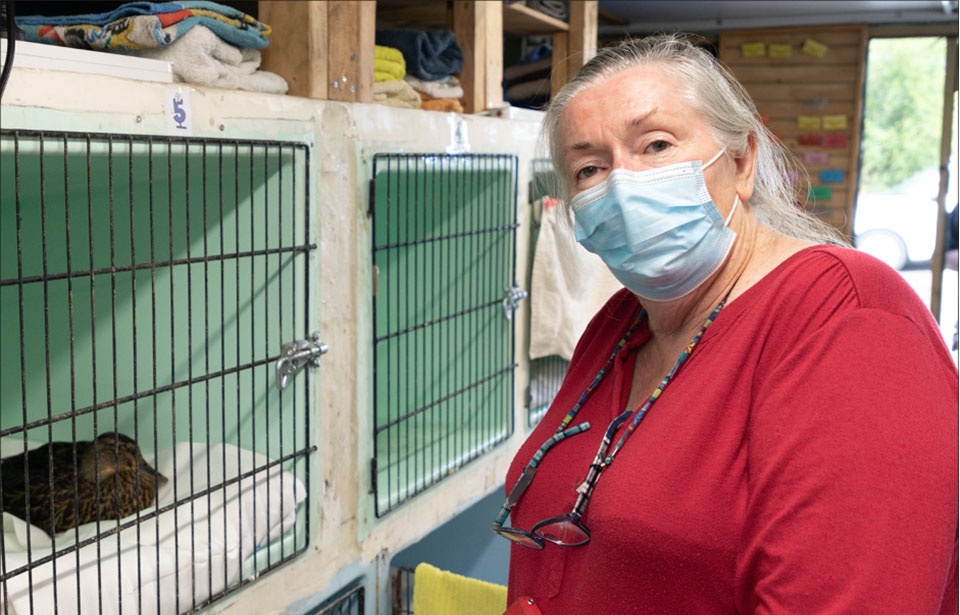 Dr Lynn Miller says BirdCare Aotearoa's wildlife hospital is equipped with nurseries, seabird wards, general wards, a triage clinic and a laboratory. The charity relies on donations to keep the doors open. Photo: Alex Cairns
Auckland Council confirmed 410 dead birds were removed from waterways by its Healthy Waters team from January 1 to March 15, 2022.
However, Auckland Council communication staff say communities-facilities contractors, who are responsible for the maintenance of land in the parks, are also removing about 10 to 15 dead birds a day.
In comparison, in the whole of 2021, 140 dead birds were removed from the water and around one bird every fortnight was removed from the land.
The council is now inspecting its ponds and lakes every day while the high death rates go on. It is encouraging the public to report any sick or dead birds.
The deputy chair of the Waitematā Local Board, Alex Bonham, says the situation is the worst it's ever been at Western Springs Park.
With 38 dead in a single week in the park, she's urging people not to feed the birds.
"We really need to get it out there so that everyone understands, and kids understand, that it's just not something we do," she says.
"It's a bad idea and it causes health problems."
The council is installing more signs to discourage bird feeding in English and te reo Māori but there are calls for translations in Mandarin and Hindi to reach a wider demographic, she says.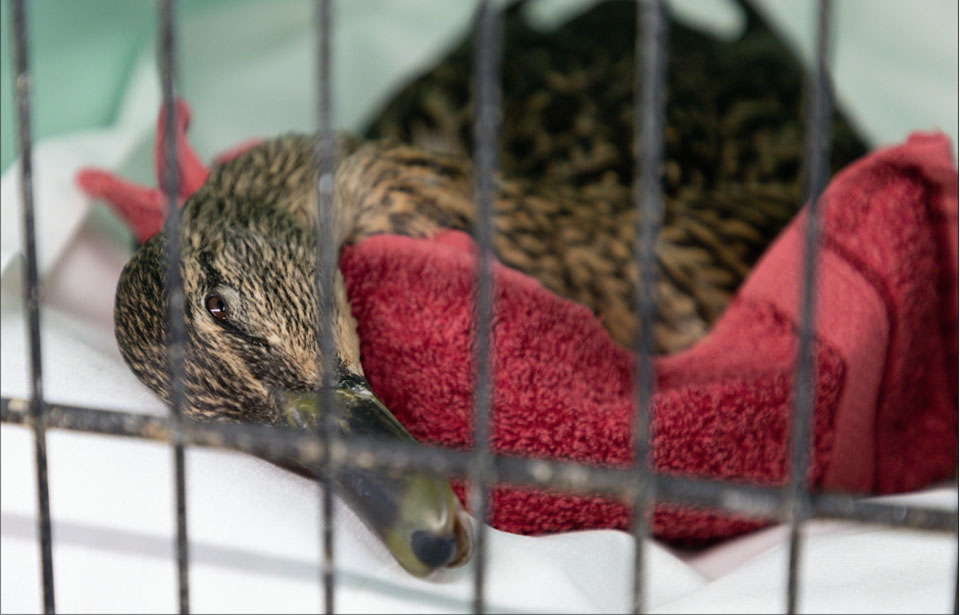 This mallard can no longer hold the weight of its head. The hospital uses intensive fluid therapy to nurse the birds back to health. Photo: Alex Cairns
Council staff have been starting early to clear dead birds and reduce public distress, and to make sure they aren't picked up by children.
"It's the poor council staff who work in parks because they love being out in nature. It's them who have to pick up the bodies of dead birds."
Dead birds are removed quickly to stop maggots carrying the toxins from infecting other bird life, says Dr Miller.
She says shallow water that stagnates in the heat, such as that in park ponds, is a perfect environment for botulism.
"Every water way in New Zealand that has been created by people is subject to this. It is often linked to poor management, poor supervision and lack of aggressive action to remove the [dead] birds.
"Ninety-eight per cent of all the birds we get in here are because people have screwed up," says Dr Miller.
BirdCare Aotearoa has treated 599 birds diagnosed with botulism already this year, with dozens coming from Western Springs. For the whole of 2021, it had just 290 patients with botulism.
Bonham says the council has installed more planting at the edge of the Western Springs lake to try increase water quality, reduce run-off and discourage people getting close to the lake to feed the birds.
Barley bales have also been installed to try neutralise the bacteria.
BirdCare Aotearoa has successfully released 385 birds admitted with botulism this year. Of those admitted, 109 had to be euthanised and 106 died on arrival.
Dr Miller says the organisation is world-leading in wildlife rehabilitation, but it's a frustrating battle.
She says botulism will never go away. With climate change and rising temperatures, it's only going to get worse, she says.