Representatives from community trust Vision West will be walking Auckland's Coast to Coast this Saturday to raise money for families struggling this winter.
The 28 'walking warriors' are being sponsored to walk from Princes Wharf to Onehunga Harbour, with all proceeds going directly to the distribution of food and blankets to families struggling this winter.
Vision West are a Baptist-affiliated social services agency that aims to reduce poverty, end homelessness and reduce inequality in New Zealand.
Head of community service development Brook Turner said rising house and petrol costs, on top of other bills, puts the pressure on families needing to put food on the table.
"We've seen a significant increase in demand for our food services and we know that we need to be offering more this winter…so we said why don't we mobilise a group of our staff to do peer to peer fundraising and walk the coast to coast to keep whanau warm this winter," said Mr Turner.
With philanthropic funds much harder to come by these days, the walk aims to raise the awareness of food insecurity in New Zealand.
"The truth is that 100,000 kids in the country have food insecure homes and 270,000 kids have no food in their lunchboxes today.
"We live in a food bowl in New Zealand - we are a population of five million and produce for 20 million, yet we have families who can't afford to get food on the table for their kids. There is about $2 billion worth of domestic food waste thrown out each year.
"It's about saying to our community 'hey there's a food crisis just like a housing crisis, people are really struggling to pay the bills in the winter, and food is an essential,'" Mr Turner said.
As the largest food support service in West Auckland, Vision West will soon be launching their pātaka kai free food store, where families can come and choose the food they need, rather than receiving pre-packaged food parcels.
This food support model is all about building empowerment, Mr Turner said.
"[We're] using food support as a way to pathway people through to greater self-sovereignty rather than just as a sort of emergency release service.
"It's still in its infancy, but my understanding would be we're the only wrap-around support charity in NZ that has gone for an empowerment food support model at this point."
Although the walk it is not yet a public event, Mr Turner hoped to "harvest the learning to then take that into next year to go the full hog".
Sponsorship is open until Monday night. If you want to contribute click here.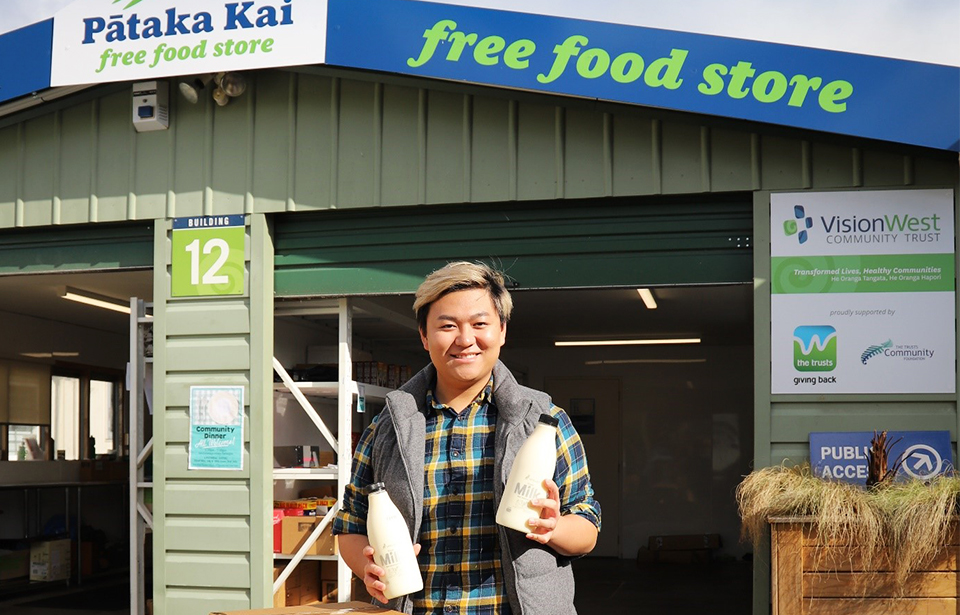 Outside Vision West's free food store with the milk sponsorship. Photo: Alice Burton