Thirteen per cent of Aucklanders over 65 years old don't have enough to make ends meet, according to a 2020 quality-of-life survey, but the city's age-friendly plan does not address employment.
Even though the plan – Tāmaki Makaurau Tauawhi Kaumātua (the Auckland Age-friendly Plan) – says most older Aucklanders are doing OK, it highlights that over the next 10 to 20 years, the proportion of older people facing financial hardship is likely to grow.
The plan follows the World Health Organisation's eight "domains" for an age-friendly city.
However, a researcher in the Department of Economics at the University of Auckland, Dr Claire Dale, says it lacks a strategy to get older Aucklanders into paid jobs.
The plan's focus is on volunteer work instead, said the researcher.
She pointed to the employment section, which encourages the creation of opportunities for older people to volunteer at environment groups.
Dr Dale says the plan needs strategies to prepare the city's industries to employ older workers.
"[I'd like to see more] talking to the Employers and Manufacturers Association, encouraging them to do more to educate their members around the issue," said Dale.
In May 2019, a survey of 500 companies by the Retirement Commission found that 30 per cent were worried about the ageing of the workface and many had already experienced skill shortages.
Yet 80 per cent didn't have strategies to recruit or retain workers aged 50 and over.
The northern director of the Grey Power, Mate Marinovich, said older people skills, knowledge the experience.
"But when they pass 50 years of age, it is difficult to get a job."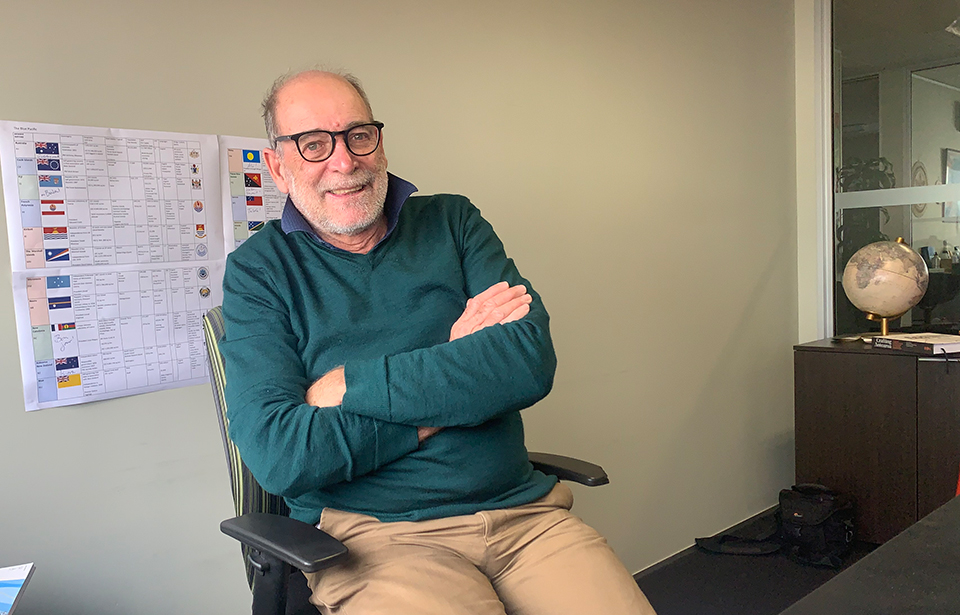 Marketing professional Alex Stone struggled to find work as an older Aucklander. Photo: Ana Maykot
Alex Stone, 67, struggled for five years to find a job.
Stone is a journalist, writer, an artist, a marketing professional and has award-winning jobs under his belt.
All this experience, however, wasn't enough.
He heard from several recruiters that he was "too experienced" for the positions he applied for.
"As a 60-year-old in New Zealand, I couldn't get a jump," said Stone.
A few months ago, Stone found work as marketing and communication manager at Pacific Trade Invest.
He is now one of 23 per cent aged 65 and over in Auckland who is still working, according to the quality-of-life research.
Auckland has a high rate of older people working compared to the United Kingdom, where only 11 per cent of people aged 65 and over are employed.
Principal policy advisor for culture and diversity at Auckland Council, Rebecca Kruse, said the council's age-friendly Auckland Action Plan aimed to improve the quality of life of older people by raising awareness and encouraging organisations to consider older people when planning and delivering.
It would work as a guide for companies and organisations keen to create a space that can comfortably accommodate older people, she said.
The document includes the WHO eight domains for an age-friendly city: outdoor spaces and buildings, transportation, housing, social participation, respect and social inclusion, communication and information, community support and health services, and civic participation and employment.
Auckland's plan includes two other areas: kaumātua, and culture and diversity.
It also expands the outdoor spaces and buildings domain to become Te Taiao – the natural and built environment, and it incorporates a Māori wellbeing framework.
Kruse said the plan was focusing on the health and socialisation of older people, rather than employment.
"At the moment a lot of the organisations [we've worked with in this plan] are more in the community, support and health space.
"That's probably why you will see greater support in inclusion, social participation and issues such as loneliness and isolation.
"But there is not as much in the employment section," Kruse said.
The council launched the plan in 2019. It will be revised in 2027 and might include more employment opportunities.
TWN inquired about the cost of the plan, but the council response was the cost of developing the plan was made up of staff time.