Auckland charitable groups will get $16.5 million from ratepayers this year thanks to a law that Mayor Phil Goff calls "anachronistic, out of date and unrealistic".
The Auckland Regional Amenities Funding Act (ARAFA) was established in 2008 and has allocated $188 million over 14 years.
An additional $4.2 million has been spent administering the grants.
Under the act, an independent board levies Auckland Council each year for rates money and allocates it to specified charities.
This year, eight charities listed in the act will get funding via the Auckland Regional Amenities Funding Act Board.
Councillor Linda Cooper was one of two councillors who voted to oppose the 2022 levy charged by the board.
At a governing body meeting last month, Cooper said the funding had favoured the arts.
"A measly amount goes to the emergency services and the volunteers that put their life on the line to rescue people and keep people safe," she said.
________________________________________________________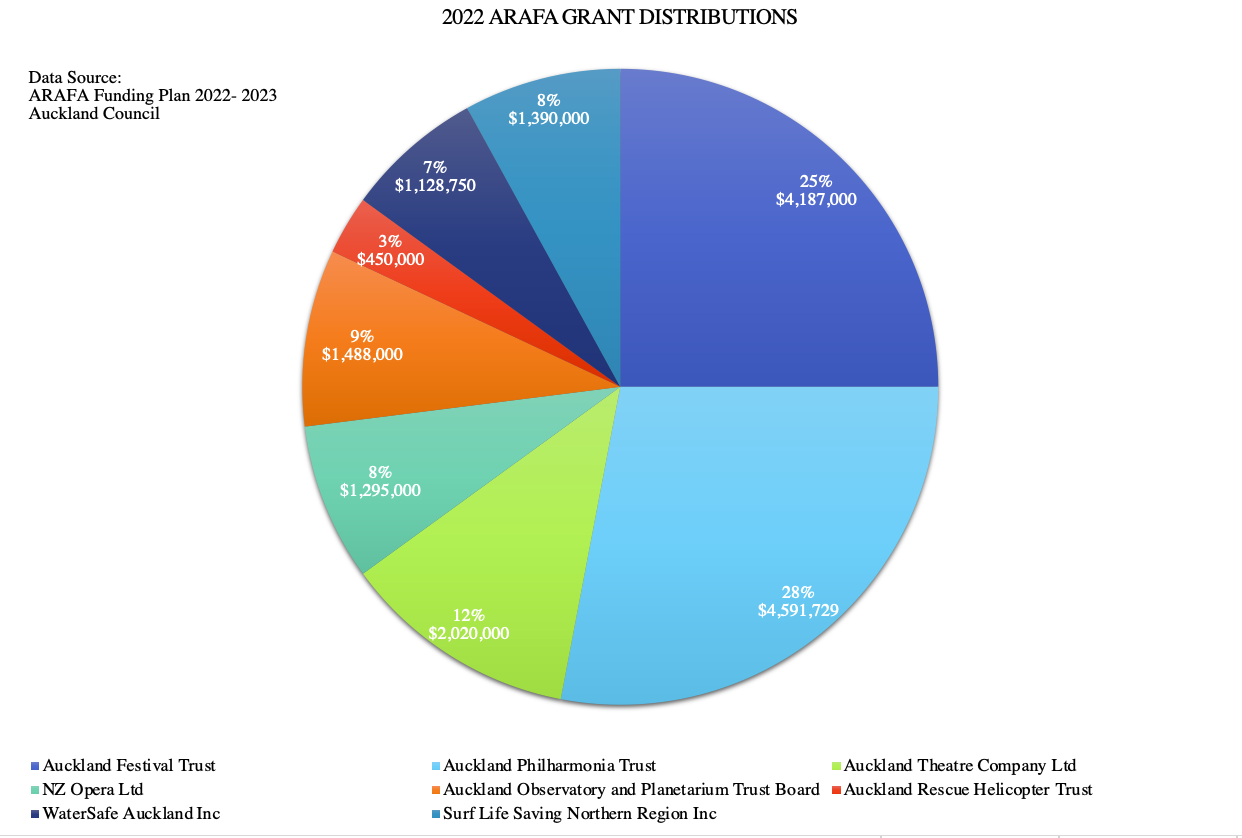 Who got what in the $16.5 million funding round. Infographic: Alex Cairns
_____________________________________________________________
Up to two per cent of Auckland's rates can be distributed by the board. This year, it will distribute 42.6 per cent of the maximum levy it can ask for.
The council asked the board to consider reducing the funding due to budget pressures, but it declined.
The council would have faced arbitration if it didn't approve this year's $16.5 million levy.
Cooper told TWN the process made it difficult for the council to set priorities. "We don't really get a say in that regard - another board does.
"I think [the funding] would be much better sitting with a committee of council," she said.
Matt Williams, chief executive of Surf Life Saving Northern Region, told TWN the board acted in the best interests of the city.
He said that the funding "shouldn't be exposed to political whims".
"I feel it's a really important piece of legislation, but it's also very misunderstood."
The ARAFA board declined TWN's request for an interview but said in a statement that "comparing the value of grants awarded to amenities does not provide a complete picture nor is it helpful".
_____________________________________________________________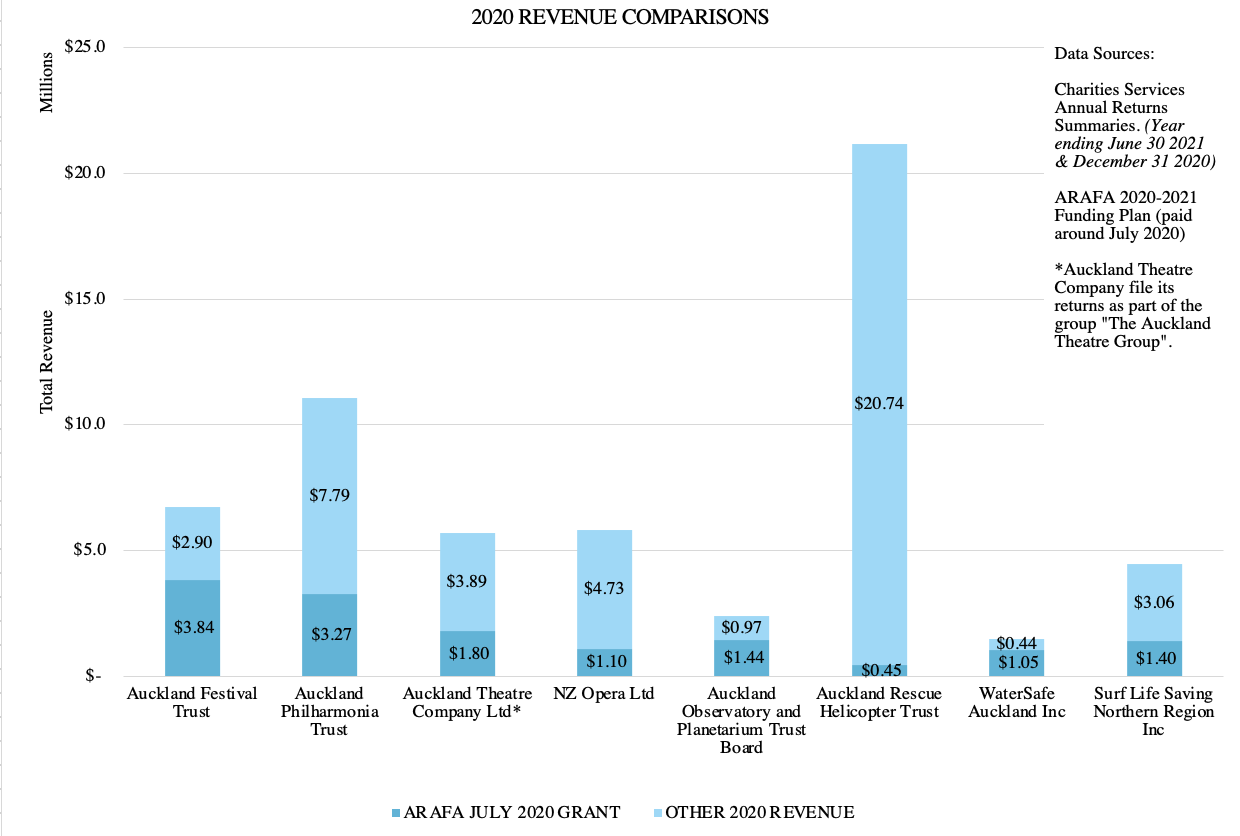 To what extent does each organisation depend on ARAFA funding? Infographic: Alex Cairns
________________________________________________________
Cooper said she wasn't anti-arts, but highlighted the importance of the relativity of the payments.
She said musicians train for many years to become good but after lockdowns the city's beaches and parks had been "overwhelmed".
"I'm not advocating for not giving people money. I'm just saying I think it should be a fairer distribution among the remaining amenities."
She noted the increase in funding to Auckland Philharmonia was half the amount that Surf Life Saving Northern received in a whole year.
She said spending rates should be value for money. "What's the [best] bang for your buck?"
Williams said you couldn't differentiate between groups and how important they were to the city.
He said the funding was proportionate to the outgoings of each organisation, and looking at it that way painted a different picture.
"The Auckland Arts Festival costs a lot more to run than surf lifesaving does each year. Therefore Auckland Council makes a greater contribution.
"Each [charity] has the ability to ask to have our costs met," he said.
________________________________________________________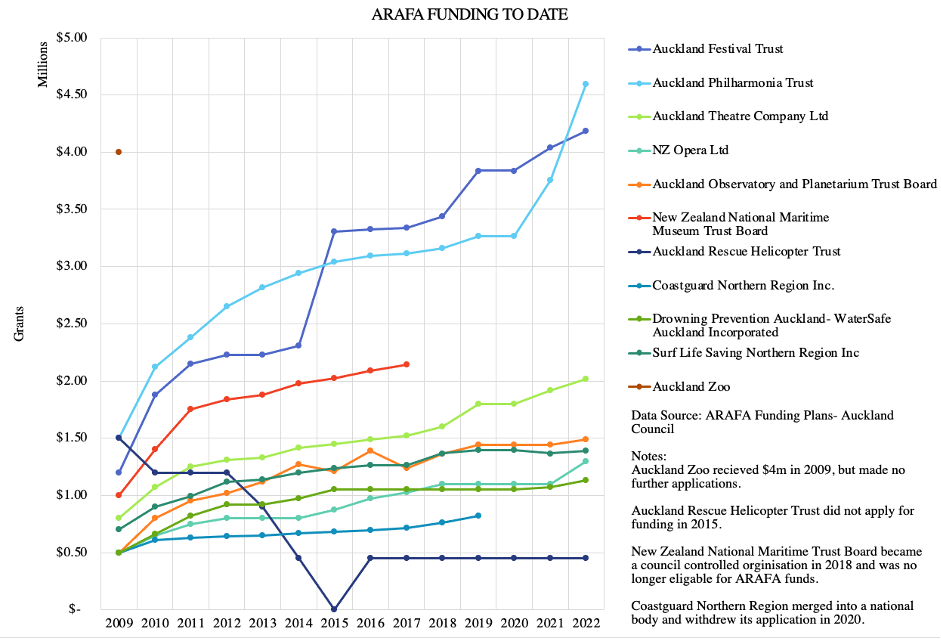 ARAFA funding to date. Infographic: Alex Cairns
_____________________________________________________________
The ARAFA board advertised in the New Zealand Herald twice, seeking public input on its 2022 draft funding plan.
Five submissions were received, all from funding applicants.
Cooper said she had questioned the need for the act ever since she was elected onto Auckland Council.
Mayor Phil Goff said in the meeting that the legislation was "anachronistic, out of date and unrealistic". It has been designed for a time when independent councils in Auckland could not agree.
However, Williams said that was "effectively hearsay".
"It was put together to avoid the political whims of funding for important organisations.
"It's actually quite a simple act and does exactly what the public wanted, which was to ensure provisions around funding core services are made," he said.
Mayor Goff voted to approve the levy, but told the meeting he wants the council to have a relationship with the organisations without "the shackles of government legislation".
He said he hoped to push the case for that before his mayoralty comes to an end in October.