Auckland Council stops reckless driving on Muriwai Beach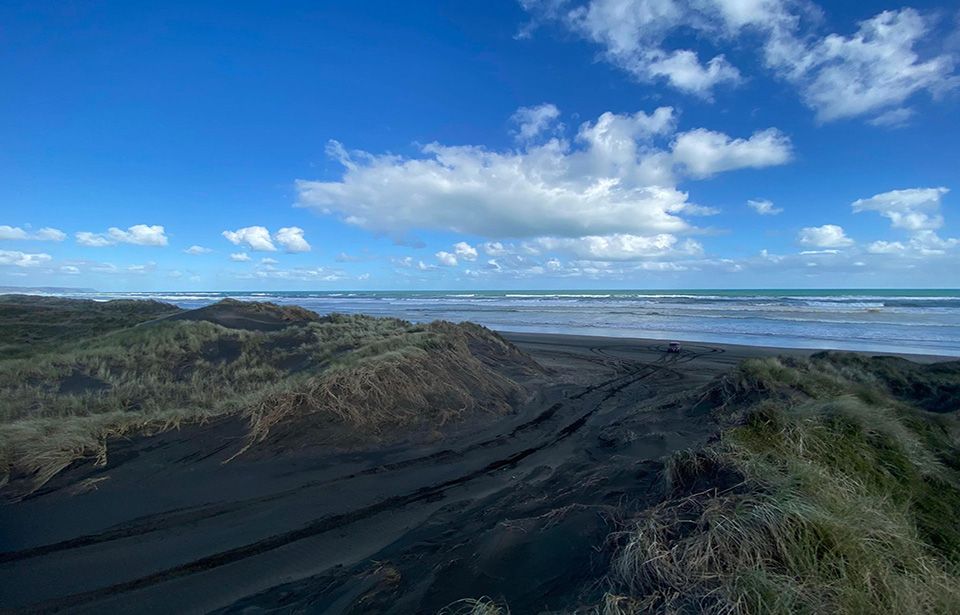 Muriwai's scenic beach is threatened by off-roaders breaking rules and driving up onto the dunes. Photo: Harriet Laughton.
Auckland Council is planning to stop reckless driving to protect wildlife and dunes on Muriawai Beach, pending funding decisions.
After the consultation with the public, three solutions were approved that restrict vehicle access to the beach. These measures include installing an access control gate, implementing a fee-based permit system, and closing vehicle access during busy holiday periods.
These policies are awaiting additional funding from Auckland Council's budget, to be revealed in July this year. However, it could take at least a year to initiate due to costs, says Councillor Alf Filipaina, Chair of Auckland Council's Parks, Arts, Community and Events Committee.
The installation of the gate will cost $650,000 and the permit will act as an income stream for the gate, as well as protection for dunes and wildlife, costing drivers up $200 a year.
Currently, a free permit and driver's license is all that is needed to access the beach.
Vehicles driving onto the dunes quickly destroy vegetation, which causes loose sand to blow inland, devastating the landscape and its wildlife.
Toheroa (beach clams), Kororā (little blue penguin), Pakakë (seals) and Muriwai's very own gecko species are currently threatened by these vehicles.
"The program is to enable us to have a system where we can manage the numbers of people on the beach and any breaches," said manager of regional parks Scott De Silva.
De Silva maintains Muriwai's dune shapes by planting indigenous Spinifex plants on the Southern part of the beach.
"As you go further up the coast where we don't have these systems in place, that's where you get those steep cuts to the dunes.
"There are areas of open sand where vehicles have just churned it up. Having vehicles on dunes is a terrible thing and you're never gonna have a functioning dune system there."
Off-roader Luke Tucker has seen countless cars ditch the main beach to drive up into the dunes.
"There's so many irresponsible drivers that ignore the rules. I think donuts up in the dunes are the worst part because you see the dunes just completely ruined."
An estimated 64,500 vehicles drove onto Muriwai in 2021, with some busy 24-hour periods seeing over 1,400 vehicles.
The beach is currently closed due to the effects of Cyclone Gabrielle on the wider area, lack of water supply, and a landslide closing off the main access road to the beach.
Public consultation about beach access was originally held by Auckland Council's Parks, Arts, Community and Events Committee in September last year.