State of emergency: floods, road and school closures strike Auckland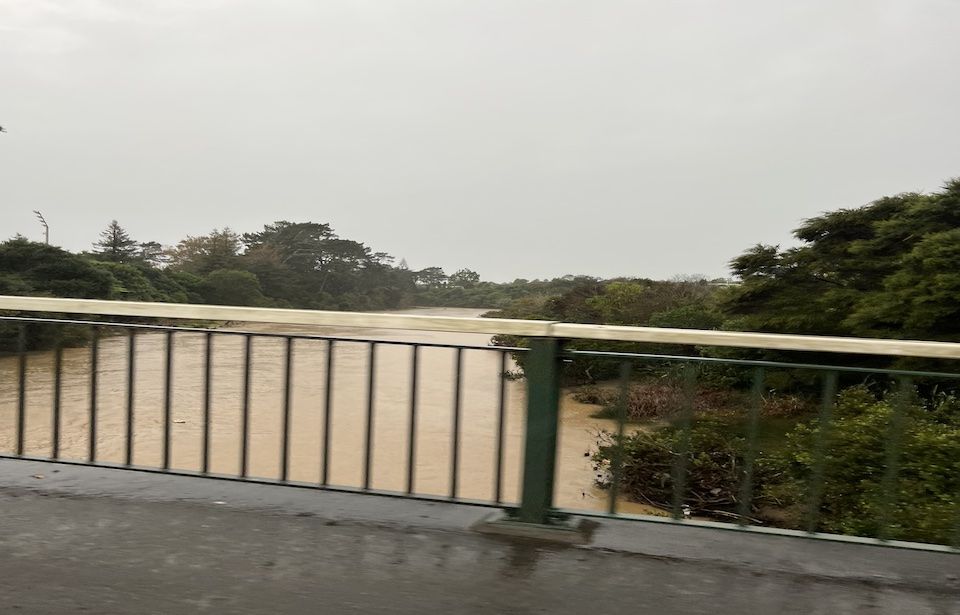 Water levels remain high at Henderson Creek as torrential rains strike the local area. Image: Tofoi Lafaitele
Floodings, road closures and school evacuations became the new norm across Auckland yesterday as severe weather hammered the upper North Island.
The events promoted Auckland Mayor Wayne Brown to declare a local precautionary state of emergency.
Residents of West Auckland's Henderson Valley, one of the areas that was heavily affected by the Auckland anniversary floods earlier this year, took to their Facebook community page to express their devastation at the repeat of January's events.
"We [sic] completely under now," one Facebook user posted, as they shared a picture of a vineyard peeking out from under the floodwaters.
Another Facebook user wrote, "Filling up fast!!!" as they shared a picture of their street, slowly being submerged in the rising floodwaters.
Around the same area schools such as Waitakere Primary School and Henderson Intermediate School chose to close early for the day, while those that chose to remain open notified parents that they could collect their children if desired.
Media manager at Waka Kotahi NZTA, Kaity Alexander, said in a statement that travel should be restricted unless necessary, and that drivers should take extra precautions while commuting in these weather conditions.
"This is a rapidly changing event with road closures across the Auckland and Northland network," she said.
"Waka Kotahi is advising people to check the very latest weather conditions with MetService and is urging anyone who does need to drive in areas affected by severe weather to adjust their driving to the conditions, which means slowing down, increasing following distances, switching headlights on, and watching for flooding and other debris on the road."
Alexander also urged those who needed to travel around to plan their trips in advance.
"People [should] plan their journey if they have to travel and... check the Waka Kotahi Journey Planner before they leave as the situation is changing rapidly."
Communications meteorologist from MetService, Andrew James, also made a comment about the weather conditions, saying that they are expected to ease up as the week nears its end.
"Heavy rain eases off this evening and the next few days see a return to winds coming from the west rather than humid northerlies we've seen this last week or so," he says.
"There remains some risk of thunderstorms through Wednesday and Thursday, but we are not expecting the rainfall accumulations we've seen today."
A mobile warning alert was issued by Auckland Emergency Management at around 12:50pm yesterday to those in affected areas.
For more information on how to keep safe and updated during this time, visit the following sites: MetService, Waka Kotahi Journey Planner, and Auckland Emergency Management.