Kumeū winemakers adapt to the effects of climate change in the region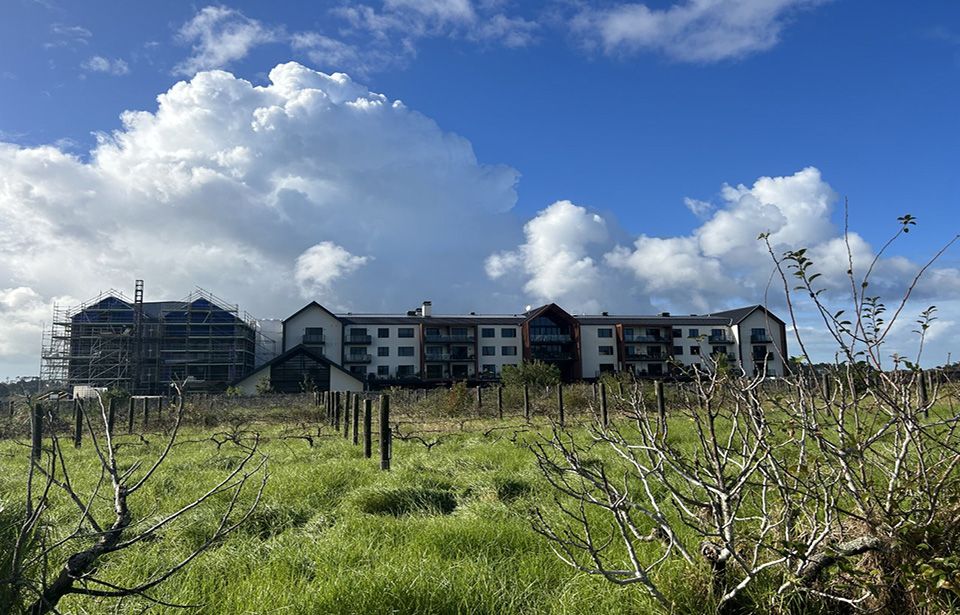 The remnants of old vines in Kumeū behind a new housing development. Photo: Nick Ball & Sophie Jones.
Winemakers in Kumeū are facing the twin challenges of a changing climate and increasing urban sprawl.
Despite the problems caused by extreme weather and heavy development, the region's growers claim they are adapting and coming to terms with long-term uncertainty.
Kumeū was hit hard by rain over the Auckland Anniversary weekend, when more than 260mm of water fell in 12 hours, leading to flooding.
University of Auckland wine scientist Dr Ali Lowrey says large quantities of water cause vines to become waterlogged and stressed.
"Rain also brings disease, nutrient availably is reduced, and water availability can lead to excessive vine vigour, where the vine grows too much vegetative growth at the expense of fruit production."
Kumeū-Riverhead winemaker Michael Brajkovic says that extremes in weather are part and parcel of winemaking in the area in part due to being on a flood plain.
"We've experienced extreme weather events in Kumeū for decades, with floods in 2020, 2004, and 1979, as well as Cyclone Gabrielle in 2023 and [Cyclone] Bola in 1988."
Winemakers are a "resilient bunch and adaptable" and despite challenges presented by extremities in weather are well placed to continue winemaking, says Brajkovich.
"Kiwis in general are an adaptable people and winemakers here have adapted and continued to do so. We've seen great change in the wine industry over the past forty years, change in winemaking happens quicker here than in other countries."
Brajkovic has adapted by improving drainage to reduce the chance of flooding in his vineyards that border the Kumeū River.
"We've adapted by getting the council to improve drainage culverts near our vineyards to reduce flooding, also we want to see increased efforts to clean up streams enabling water to flow from the Kumeū River out to sea via the Kaipara harbour.
"Further to this we grow a lot of chardonnay grapes which are more resilient to extremities in weather and have done well in growing despite climate pressure."
Dr Lowrey sees the need to change to ensure the long-term sustainability of winemaking in the country and feels that there needs to more discussion across the industry.
"Adapting what we grow is something I think New Zealand will need to start having a behaviour change around as well to future-proof this industry, this is about climate change resilience and adaption to the changing environment."
Dr Lowrey acknowledges that climate change is not the only thing affecting wine growers in the region.
"Part of the bigger picture in the Kumeū growing region beyond climate change is the build-up in the area, which puts winemakers at risk."
Development projects in the region have been part of Auckland Council's Kumeū-Huapai Centre Plan. The plan enables Kumeū and Huapai to become an urban zone for planning rather than the previous rural classification.
Brajkovich admits that one day, winemaking in the region will not be viable due to the value of the land.
"As far as what we do as an industry growing grapes it's a bit of a sunset industry in this region, because even though we own most of the vineyards that we have and we're going to continue growing them with the grapes it may not be viable going into the future simply because populations and demand for land in the area."
Brajkovich is not against development, but he wants to see it done properly with the right infrastructure in place so as not to bring harm to the local Kumeū environment.
"You see examples like Stonefield's, heavily built-up areas with good infrastructure in place, Kumeū is on a flood plain, so they need to build accordingly with good stormwater and wastewater infrastructure in place."
Dr Lowrey says that because of the current challenges that the Kumeū winemaking industry is facing and the long-term uncertainty, it will be "sad to see it disappear for good."
"Winemaking in Kumeū is part of the history of Auckland as well as New Zealand winemaking as one of the country's oldest regions.
"It's also part of the environmental system and contributes a lot to the culture of the community, it will be sad to see it go to be replaced by property development."
Time will tell whether the region's wine industry will be able to survive. However, in the meantime, Brajkovich will continue "making wine" for as long as he is able to.