Food waste to fuel Auckland's sustainable future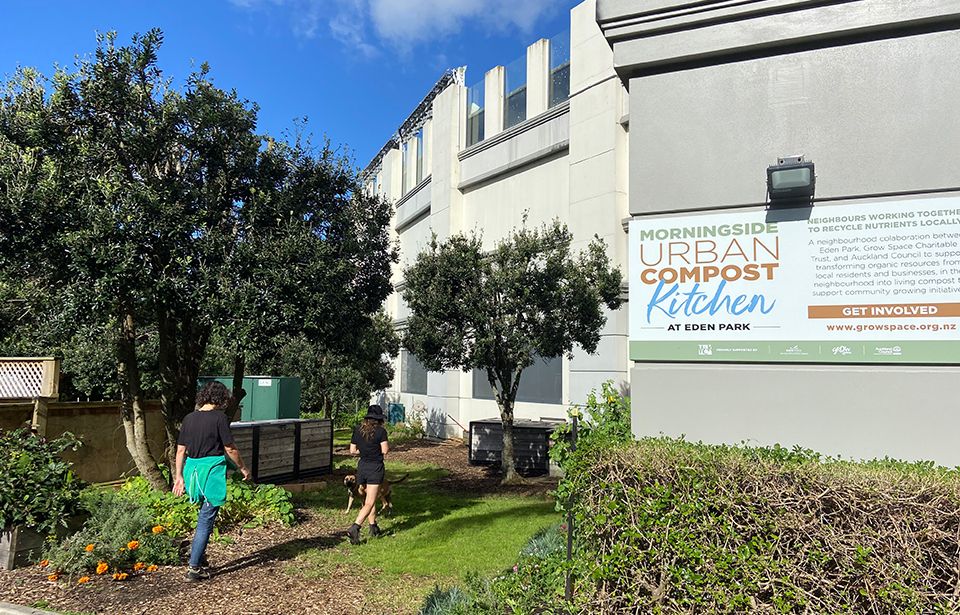 MUCK calls for residents to volunteer and learn about the importance of community compost to build Auckland's climate resilience. Photo: Shania Callender
An urban compost hub at Auckland's Eden Park is offering a glimpse into the future of community-powered farming aimed at building the city's climate resilience.
Growspace's Morningside Urban Compost Kitchen (MUCK) is a hub that turns food waste from the stadium and nearby houses into nutrient-rich soil for its urban farm.
MUCK compost hub manager and community coordinator Sophora Grace says the hub represents a climate solution for Auckland to handle food waste while minimising carbon emissions.
"MUCK is my space in believing there's still hope for the world. We take the ugly [food waste] and put love into it and it comes out really fertile and produces all this beautiful stuff to put back out into the community."
Grace says that transforming bare greenspaces around the city into "people-powered and passion-powered" compost hubs would see Auckland take a major step toward improving its climate resilience.
"If in this little space we can take 30 wheely bins full of waste from Eden Park, return it to Papatūānuku with just our hands and have this space harvest enough greens to feed up to 100 families, imagine if there was one on every three streets."
End Big dairy NZ movement member Eliana Darroch says that Auckland is not prepared to cope with the challenges posed by climate change, but believes establishing local and sustainable food systems could improve this.
"Growspace gives me a lot of hope. We have a lot of parks dotted around Auckland and putting in community compost hubs and plant nurseries is such an excellent and workable idea."
Growspace received a grant from Auckland Council's Waste Minimisation and Innovation Fund when MUCK was first created but has had no further funding since.
Darroch says despite the council declaring a climate emergency in 2019, its actions and funding are falling short of creating real change.
"The council's proposed budget cuts would gut the services which make this place liveable and are part of creating our climate resilience, such as funding for community organisations."
Grace and other community composters have established the Aotearoa Composting Network to challenge Auckland Council and prove the environmental benefits these hubs have for the city.
"We are creating a case for ourselves — there are hundreds of hubs across Aotearoa and we are trying to send the message 'look, we are here, we have the climate solution, everyone hates your greenwashing bullshit, just get amongst it'," says Grace.
Darroch says climate change will affect every aspect of our lives, making it vital for the council to support initiatives taking the steps to build a climate resilient city.